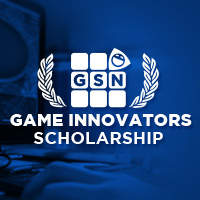 GSN Digital introduces Game Innovators Scholarship, offering an educational award to cultivate the next generation of games industry leaders.
WALTHAM, MA--(Marketwired - Sep 11, 2013) - GSN Digital, a leading provider of online, mobile and social games, announced today the launch of its inaugural Game Innovators Scholarship. GSN will award $2,500 to the qualifying applicant who best demonstrates their passion and ability to drive innovation within the games industry. Open to any college student who intends to pursue a career in the games industry, the Game Innovators Scholarship supports GSN Digital's commitment to investing in a new generation of games industry leaders.
Candidates are invited to apply at www.gsn.com/scholarship, where they must complete the online application and submit an official academic transcript and an original essay that explains how they hope to impact the games industry. Full details, including eligibility requirements, are available at http://www.gsn.com/scholarship/rules.html.
"The GSN Digital Game Innovators Scholarship is our way of showing support for the talented students across disciplines who want to become games industry leaders," said Allison Rynak, VP of Marketing Communications at GSN Digital. "Creativity and innovation are driving forces behind GSN Digital's first-rate entertainment offering, and we are committed to fostering these values in the next generation of games industry professionals."
Applications will be accepted from September 11, 2013 through November 1, 2013, and the award recipient will be notified in December. To apply for the GSN Digital Game Innovators Scholarship or for more information, please visit www.gsn.com/scholarship.
About GSN
GSN is a multimedia entertainment company that offers original and classic game programming and competitive entertainment via its 77-million subscriber television network and online game sites. GSN's cross-platform content gives game lovers the opportunity to win cash and prizes, whether through GSN's popular TV game shows or through GSN Digital's free casual games, mobile and social games, and cash competitions. GSN is distributed throughout the U.S., Caribbean and Canada by all major cable operators, satellite providers and telcos. GSN and its subsidiary, WorldWinner.com, Inc., are owned by Sony Pictures Entertainment and DIRECTV. For further information, please visit GSNTV.com.
Contact Information:
Media Contact:
Cassie Kling
GSN Digital
781-250-8669
ckling@gsn.com