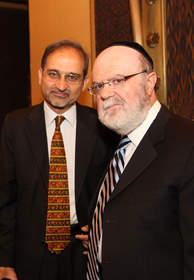 Dr. Shekhar Saxena, Director of the Department of Mental Health and Substance Abuse,World Health Organization (WHO) with Dr. Joshua Weinstein, CEO & Founder of ICare4Autism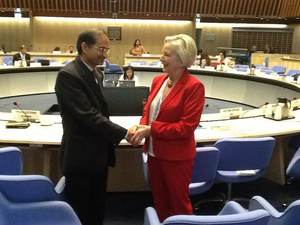 Dr. Shekhar Saxena, Director of the Department of Mental Health and Substance Abuse,World Health Organization (WHO) shaking hands with Eileen Hopkins, Director of Global initiatives, ICare4Autism during the WHO Consultation on Autism Spectrum Disorders and other developmental disorders, where the announcement was made about the partnership between ICare4Autism and the WHO
NEW YORK, NY--(Marketwired - Sep 18, 2013) - On the 15th of September, the WHO convened its first consultation in Geneva to identify priorities for action and effective strategy to build capacity, around the world. The 3 day meeting brought together high-level stakeholders, policy makers, experts from relevant disciplines, international organizations and NGOs.
This followed the adoption of a resolution by the United Nations General Assembly in My 2013 on comprehensive and coordinated efforts for the management of autistic spectrum disorders.
UN Secretary General Ban Ki-moon said on that occasion, "Now is the time to work for a more inclusive society, highlight the talent of affected people and ensure opportunities for them to realize their potential."
Experts and organizations presented examples of initiatives from around the globe, covering research, capacity building in service development and human resources, education and health care systems, employment and information systems to support individuals, researchers and organizations in the field. Wide ranging discussions took place after each session as to the possibilities presented.
ICare4Autism recognizes that these high level initiatives have led to an increased demand for information on autism -- it's causes and available treatment options, clinical protocols and capacity building materials and strategies for service delivery, by individuals with an ASD and their families, care providers and policy makers.
Eileen Hopkins was delighted to announce on behalf of ICare4Autism a new partnership with WHO to develop a Global autism resource center. This ground-breaking partnership came about through the close working relationship of Dr. Joshua Weinstein, the CEO & Founder of ICare4Autism and Dr. Shekhar Saxena, the Director of the Department of Mental Health and Substance Abuse at the World Health Organization. The e-resource center has the express aim of improving access to knowledge and will promote the exchange of information across countries and disciplines and will significantly contribute towards improved policies and practices on autism worldwide and especially in low resource countries and will underpin future developments.
The project will promote the exchange of knowledge and its use by all individuals and organizations dealing with autism care, advocacy, research and service and policy development across regions.
The assembly will close with a round table discussion on the role that WHO partners can play in ensuring the agenda for autism moves forward.
Contact Information:
Contact:
Kim Robinson