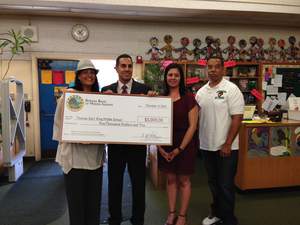 Pictured from left to right: Barona Tribal Councilmember Bonnie LaChappa, Assemblyman Mike Gatto, teacher Claudia Concebida and Principal Mark Naulls.
SAN DIEGO, CA--(Marketwired - Oct 7, 2013) - Thomas Starr King Middle School is the latest school to receive a $5,000 education grant from the Barona Band of Mission Indians. Since 2006, the Barona Band of Mission Indians has awarded over $2 million to over 400 schools statewide to help bridge school budget gaps and share resources through its Barona Education Grant Program.
Assemblyman Mike Gatto sponsored the Barona Education Grant application on behalf of the public school located in the Silver Lake area of Los Angeles. The funds will be used to purchase 12 iPad minis and approximately six eBooks for economically and culturally diverse students from Los Feliz, Hollywood, Franklin Hills and surrounding neighborhoods.
"Providing access to technology is paramount to ensuring today's students are prepared for future jobs," said Clifford LaChappa, Chairman of the Barona Band of Mission Indians. "Our Tribe is honored to share resources through our innovative program to get the most current tools in the hands of students so they have better a chance to succeed." 
The Barona Education Grant Program is the first of its kind in California created and administered by a Tribal Government. The goal of the program is to create strong educational opportunities for the children of California building upon the success of the Barona Indian Charter School, which operates under a continuous improvement model. Schools throughout California can apply for educational grants from Barona to purchase much-needed supplies and materials that promote academic improvement. Each grant awarded by the Barona Education Grant Program is $5,000. Applications can be downloaded at http://barona-nsn.gov/education.
About the Barona Band of Mission Indians
The Barona Band of Mission Indians, recognized by the United States government as a sovereign nation, has lived on the Barona Indian Reservation in rural eastern San Diego County since 1932. Prior to that, the Tribe lived on the Capitan Grande Reservation which was established by the federal government in 1875. Long before living on a reservation, the Tribe traveled across Southern California in tune with the seasons and what nature provided. Today, the sovereign nation, governed by an elected Tribal Council, is serving its Tribal members, their families, and sharing with the San Diego region. One of the most successful gaming Tribes in the country, Barona also owns and operates the Barona Resort & Casino, San Diego's leading gaming resort, casino and golf course. For more information, visit www.barona-nsn.gov.
Contact Information:
CONTACT:
Sheilla Alvarez
619-402-0182

Kelly Jacobs Speer
619-933-5013