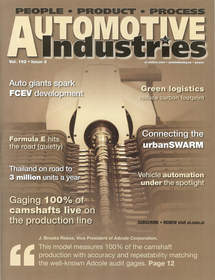 "Automotive Industries Magazine" featured the Adcole Model 1310 Camshaft Gage on their June 2013 cover. The gage measures 100% of camshafts live on the production line.
MARLBOROUGH, MA--(Marketwired - Oct 8, 2013) - Adcole Corporation announced that "Automotive Industries Magazine" featured the company's Adcole Model 1310 Camshaft Gage on the cover of the June 2013 issue. The gage measures 100% of camshafts live on the production line with sub-micron accuracy.
"Increasingly stringent regulations governing emissions combined with the need to save costs by reducing waste and rework have created the need for high-speed measuring equipment capable of measuring every part to the closest tolerances possible," wrote Lenny Case of "Automotive Industries." Adcole's Model 1310 Camshaft Gage provides robot-fed 100% camshaft inspec-tion, features new 19 mm follower heads capable of measuring six cams per cylinder with up to 32 measuring points, and achieves 0.1 micron accuracy.
According to J. Brooks Reece, Vice President of Adcole Corporation, "The new mileage and tailpipe emissions standards in the USA and Europe continue to become tighter and influence new engine development which impacts camshaft technology. Our camshaft gage advances are driven by this reality."
Established in 1895, "Automotive Industries Magazine" is the world's oldest trade magazine covering the global automotive industry.
About ADCOLE Corporation
Adcole Corporation is the global center of expertise for designing and manufacturing the world's highest accuracy machines for measuring camshafts, crankshafts and pistons, as well as digital sun angle sensors for space satellites. No other company can better measure critically important reciprocating engine components or the angle to the sun.
Founded in 1957, Adcole has manufacturing facilities in both Massachusetts and Florida and offices across the world, maintaining close relationships with their customers. The company's success, to a large extent, is based upon responding to their customers' requests for further refinements based upon their real-world experience. Most of these refinements have dealt with the need for higher accuracy and the need to measure more parameters including radius, profile, taper, crown, timing angle, diameter, velocity, acceleration, runout, and roundness and concentricity.
Contact Information:
For more information contact:

ADCOLE Corporation
J. Brooks Reece
Vice President
669 Forest Street
Marlborough, MA 01752 U.S.A.
(508) 485-9100
FAX (508) 481-6142
e-mail: breece@adcole.com
www.adcole.com