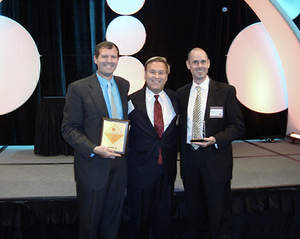 AtNetPlus President, Jim Laber, Cascade Executive Director, Bob Filipiak, and AtNetPlus CEO Jay Mellon celebrate after the 2013 Cascade Capital Business Growth Awards.
STOW, OH--(Marketwired - Oct 15, 2013) - AtNetPlus, Inc., a leader in Cloud solutions, today announced that the IT services firm has been chosen as a recipient of sixth consecutive Cascade Capital Business Growth Award. The company also was selected as the best overall success story in the Technology category. The winners recently were announced at the 19th annual awards ceremony held the John S. Knight Center in downtown Akron. This year, the award recognized companies in seven Ohio counties that have grown revenue and/or added employees over the past five years.
The 46 companies represented at the ceremony showed impressive growth both in revenue and number of employees from 2008 through 2012. AtNetPlus gained 71% in revenue and 33% in employees over that same time period. The company was one of only five companies honored this year in the Technology category.
AtNetPlus President Jim Laber stated, "We are very pleased to have once again attained the growth necessary to qualify for this recognition. We strive to expand our service offerings to include the best cloud solutions, cyber security, web services, and network management available for small and mid-sized businesses in northeast Ohio. Maintaining a well-trained team of experts has helped propel our growth. We are constantly searching for employees that are not only highly qualified technically but also focused on customer service. In fact, we currently have several open positions."
About AtNetPlus
Attentive IT support from AtNetPlus keeps your technology connected, secure, and working.  
Contact Information:
Editorial Contact:
Ellen Kurr
Director of Brand Experience
AtNetPlus, Inc.
Phone: 330-945-5685
Fax: 330-945-5684
news@atnetplus.com
http://www.AtNetPlus.com