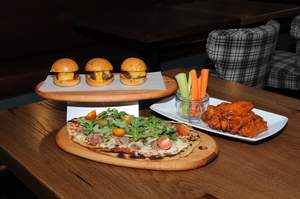 Plan your tailgate menu a day or two ahead to ensure you have plenty of food to eat before and after the game, such as (clockwise) cheeseburger sliders, traditional Buffalo wings and grilled sausage flatbread. (Credit: The Common at Marriott Inn and Conference Center University of Maryland University College)
HYATTSVILLE, MD--(Marketwired - Oct 16, 2013) - Embrace nearly 150 years of tailgating tradition this football season with tips to turn your feast into the ultimate tailgate.
Fan-worthy food is a goal every season for Diego Fernandez, executive chef of The Common restaurant and pub located in Marriott Inn and Conference Center University of Maryland University College and next to the stadium where the University of Maryland Terrapins hit the gridiron in College Park, Md. Celebrating sports with food is a tradition that dates back to 1869, when Rutgers fans picnicked and donned scarlet scarves before the inaugural intercollegiate game with Princeton, according to the American Tailgater Association.
"Whether you huddle up at home or near the stadium, you can cook up a winning tailgate if you follow the right playbook," says Fernandez, who has worked at Marriott Hotels and Resorts in such diverse locales as Argentina, Guatemala, the West Indies and Kansas since 1995.
Before you gather to eat, socialize and cheer for your favorite team, consider these 10 tailgating tips from Fernandez and the culinary team at The Common:
Plan your menu a day or two ahead and include plenty of food to eat before and after the game.
Think beyond burgers and dogs. Buy quality meat and seafood. Marinate meat in the refrigerator the night before the party to infuse some serious taste.
Discard leftover marinade used on raw meat. Never re-use it on top of cooked meat.
Pack your cooler with plenty of ice to keep food fresh and beer cold.
If you are cooking with a gas or charcoal grill, make sure that you bring a small fire extinguisher.
Place your grill or fryer on a level surface for safety and even cooking.
To help avoid fires, don't place your grill under a tent.
Start cooking at least 90 to 120 minutes prior to kickoff to give fans enough time to eat and clean up before the first play.
Show community spirit and good taste by offering an assortment of craft beers from local breweries.
No matter what you drink, stay hydrated with plenty of water.
If you're in the neighborhood, tailgate indoors at The Common in the College Park hotel, located at 3501 University Boulevard East in Hyattsville, Md. Ultimate Tailgate Specials are offered from 4 to 7 p.m. daily to enjoy before televised NFL games and 2 hours prior to every Terrapins home football game. Park for free on Terrapins game days with a $40 restaurant check. The Common espouses all that is great about pub culture -- a place where friends and colleagues can gather to work, dine and play, split shareable plates, or grab a Starbucks latte or pastry to go. For more information, visit www.TheCommonCollegePark.com, get social with The Common on Facebook, Foursquare and Twitter @TheCommonCP or call 301-985-7300 for more information.
About Marriott Hotels
With more than 500 hotels and resorts in nearly 60 countries around the world, Marriott Hotels is evolving travel through every aspect of the guest's stay enabling the next generation to Travel Brilliantly. Boldly transforming the brand for mobile and global travelers who blend work and play, Marriott leads the industry with innovations including the Greatroom, Future of Meetings and Mobile Guest Services that elevates style & design and technology. All Marriott hotels participate in the award winning Marriott Rewards frequent travel program that allows members to earn hotel points or airline miles for every dollar spent during each stay. For more information, visit www.MarriottHotels.com. To join the ongoing Marriott conversation, like us on Facebook (Facebook.com/Marriott) and follow us on Twitter (Twitter.com/Marriott, @Marriott).
Contact Information:
Contact:
Lisa Clark
iThink Communications
(724) 448-5625