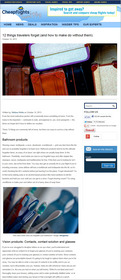 Blog post of Cheapflights.com's 12 Things Travelers Forget (and How to Make Do Without Them). From toothpaste to chargers to underwear, this list has got you covered with tips on what to do if you forget to pack some of these must-have items.
BOSTON, MA--(Marketwired - Oct 16, 2013) - It can happen to the best of us. We check off our travel packing list items one by one, but then we arrive at the airport or all the way to our destination to realize that... oops, we forgot something. Traveling -- whether going for business or pleasure -- requires plenty of planning. However, even the most organized traveler can forget to pack an item or two. To help when the inevitable happens, the travel experts at Cheapflights.com, the online leader in finding and publishing travel deals, have come up with a list of 12 Things Travelers Forget (and How to Make Do Without Them). From toothpaste to chargers to underwear, this list has got you covered with suggestions on what to do if you forget some of these must-have items.
No matter what it is that you may forget, you have to deal with both the frustration of making a mistake and the hassle of travel without the missing item. But there's no need to let that ruin the rest of your trip. Here are six items commonly left at home and ways to survive a trip without them.
Bathroom products - Shaving cream, toothpaste, a razor, deodorant, a toothbrush -- pick any item from this list and you've probably forgotten it at least once. Bathroom products tend to be the ultimate forgotten items, as many of us leave 'em right where we usually keep them: in the bathroom. Thankfully, most hotels are wise to our forgetful ways and offer staples like shampoo, razors, toothpaste and toothbrushes for free. If the item you're looking for isn't in your room, ask at the front desk. You may also get an amenity kit on your flight if you're traveling overseas; some airlines will toss a toothbrush and toothpaste into the kit, so it's worth checking the kit's contents before just leaving it on the plane. Forgot deodorant? Try to find some baking soda or an alcohol-based product (like hand sanitizer) to kill the bacteria and hold you over until you can get to a store. Forgot shaving cream? Try using conditioner or make your own lather out of a heavy dose of soap foam.


Vision products: Contacts, contact solution and glasses - If you've ever struggled to decipher letters on an eye chart, you'll understand and appreciate what an ordeal it is to forget your glasses (if you're wearing your contacts), your contacts (if you're wearing your glasses) or contact solution at home. Since contacts and glasses are prescription-based, it's going to be tough to replace them when you're far away, though you can get a decent deal on fast-turn around glasses in markets like Beijing's Glasses City if you happen to be in Asia. You may be able to order a new pair of contacts to be swiftly sent to you on vacation, but it will probably cost you. Instead, make do with whichever vision aid you did remember (i.e. the one you had on when you left home). While it's not ideal (and won't thoroughly clean your lenses), adding some salt to water (preferably distilled water, or at least bottled water) and storing your lenses in that overnight will suffice in a pinch.


Chargers - You remembered your gadgets, but when their batteries finally die, you realize you've left your chargers (lifelines?) behind. Sound familiar? Today's menu of tech items we travel with is quite long: Tablets, cell phones, laptops, digital cameras and e-readers all have chargers that are easy to leave plugged in -- at home. Before you panic about being disconnected and run out to purchase a new power line, try to find a fellow traveler who will lend you a charger. It's also worth checking with the front desk at a hotel to see if they have extras. (After all, chargers are said to be the most left-behind item at hotels.) Another option? Electronics stores are ubiquitous these days, especially in airports and cities. Consider powering up using a charger that's plugged into a device on display. Some airports even offer charging stations (with built in chargers) that you can use for a fee. If you're the traveler who leaves your chargers at home every time you head out for a trip, consider snagging a bag that provides all the power you need, which is more difficult to forget and will charge your devices on the go.


Voltage converters (outlet adapters) - International travelers are privy to the fact that you need voltage converters to plug in appliances in other countries. But it's easy to forget the ins and outs of electrical sockets and currents around the world when you're running out the door. There aren't any true replacements for the real thing (which you can buy in the airport, if need be), but adapters are another item hotels will likely have available for you to borrow. If not, and you're just trying to charge a cell phone that uses a USB cable, plug the cable into the USB port on the hotel room television for a quick fix. Just turn the television on and voila: Let the charging begin.


Umbrellas and rain coats - Whether you're heading to a destination known for being a bit damp or just encountered some unexpected rain, leaving your wet-weather gear behind can make for a pretty soggy vacation. There's an easy remedy though (that doesn't involve buying a new, low-quality umbrella or poncho from a street vendor). Ask someone at the place you're staying or an employee at a local business if you can have one of their unused trash bags. Cut a hole in the bottom of the bag for your head and one on each side for your arms, and presto: a free poncho! If you're worried about keeping your head wet, use a separate, smaller bag to make a plastic bonnet of sorts. You may not look stylish, but you'll be dry.


Makeup and makeup remover - Facing the world without makeup is usually a pretty tough task -- at least for ladies. And it's not much of a stretch to picture yourself leaving your entire makeup bag in a drawer in your bathroom, or that one product you can't live without at home on the counter. If you're taking an early flight or an overnight flight, you may not even apply makeup (and, in that case, may not even think very hard about bringing it with you). Fear not, makeup-less friends. Head into a makeup store or a department store with makeup counters, express interest in products you haven't tried before and ask the consultants to apply them so you can get a sense of what they look like. Many consultants will even beat you to the punch and suggest a makeover. If you like one of the new products you tested, go ahead and make a purchase. If not, at least make sure to thank your consultant. Even if you're not in love with the products you tested, you're ready to join the world with a free makeover. If you forgot makeup remover, wash your face with mild soap, then try using a little bit of lotion or olive oil to remove any excess. (Just don't get those items in your eyes.) Forgot perfume? Ask for a sample at a department store counter (the staff will give it to you in a tiny tube that's travel friendly), or just enjoy going au naturel for a change.
And the list continues with these next six items that are commonly forgotten by travelers: cash; prescription medications; underwear; headphones; hotel room footwear; corkscrews and bottle openers. To read the details on these items along with tips on how to survive if you forget them, check out Cheapflights.com's complete 12 Things Travelers Forget (and How to Make Do Without Them) at www.cheapflights.com/news/12-things-travelers-forget-and-how-to-make-do-without-them.
About Cheapflights.com, part of the Momondo Group
 Momondo Group is an online travel media and technology company that is driven by the belief that an open world is a better world. The group now serves travel search and inspiration to over 13 million visitors a month -- plus 7 million travel newsletter subscribers -- via its Cheapflights (www.cheapflights.com) and momondo (www.momondo.com) brands.
Skygate began the sourcing of complex air-travel data in 1992, while Cheapflights pioneered the online comparison of flight deals for users in 1996 and momondo launched meta-search in the Nordic countries in 2006. 
The Group has offices in London, Copenhagen, Boston and Toronto, with a consumer base across more than 20 core international markets but users all over the world.
Follow us on Twitter: twitter.com/cheapflights
Follow us on Facebook: www.facebook.com/cheapflights
Contact Information:
Contact Information:
Cheapflights.com
Mobile: +1 416-788-4573
E-mail:
Website: www.cheapflights.com