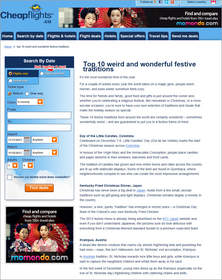 Screenshot of Cheapflights.ca's Top 10 Weird and Wonderful Festive Traditions. Whether you are celebrating Christmas, Hanukkah or just the festive season, let these wonderful, and occasionally quirky, traditions get you into the holiday frame of mind.
TORONTO, ON--(Marketwired - Nov 5, 2013) - Now that Halloween has come and gone, black cats and haunted houses are being replaced by red bows and twinkling lights to welcome in the upcoming holiday season. This is a joyous time of year and the travel experts at Cheapflights.ca, the online leader in finding and publishing travel deals, are getting into the spirit with their list of Top 10 Weird and Wonderful Festive Traditions. Whether you're celebrating Christmas, Hanukkah or just the festive season, let these wonderful, and occasionally quirky, traditions get you into the holiday frame of mind.
Below are five holiday traditions to make our list that add a touch of mischief and/or amusement to the season:
Kentucky Fried Christmas Dinner, Japan - Christmas has never been a big deal in Japan. Aside from a few small, secular traditions such as gift-giving and light displays, Christmas remains largely a novelty in the country. However, a new, quirky "tradition" has emerged in recent years -- a Christmas Day feast of the Colonel's very own Kentucky Fried Chicken. The 2013 festive menu is already being advertised on the KFC Japan website and, even if you don't understand Japanese, the pictures sure do look delicious with everything from a Christmas-themed standard bucket to a premium roast-bird feast.


Krampus, Austria - A beast-like demon creature that roams city streets frightening kids and punishing the bad ones -- nope, this isn't Halloween, but St. Nicholas' evil accomplice, Krampus. In Austrian tradition, St. Nicholas rewards nice little boys and girls, while Krampus is said to capture the naughtiest children and whisk them away in his sack. In the first week of December, young men dress up as the Krampus (especially on the eve of St. Nicholas day) frightening children with clattering chains and bells.


Yule Lads, Iceland - In the 13 days leading up to Christmas, 13 tricksy troll-like characters come out to play in Iceland. The Yule Lads (jólasveinarnir or jólasveinar in Icelandic) visit the children across the country over the 13 nights leading up to Christmas. For each night of Yuletide, children place their best shoes by the window and a different Yule Lad visits leaving gifts for nice girls and boys and rotting potatoes for the naughty ones. While their parents, Grýla and Leppalúði, are two of the most frightening creatures in Icelandic folklore, the Lads themselves are more mischievous than scary. You'll find them in the north of Iceland wearing either traditional Icelandic costume or a more conventional Santa Claus outfit. The Yule Lads' names hint at the type of trouble they like to cause: Stekkjastaur (Sheep-Cote Clod), Giljagaur (Gully Gawk), Stúfur (Stubby), Þvörusleikir (Spoon-Licker), Pottaskefill (Pot-Scraper), Askasleikir (Bowl-Licker), Hurðaskellir (Door-Slammer), Skyrgámur (Skyr-Gobbler), Bjúgnakrækir (Sausage-Swiper), Gluggagægir (Window-Peeper), Gáttaþefur (Doorway-Sniffer), Ketkrókur (Meat-Hook) and Kertasníkir (Candle-Stealer). From November 30, you can visit the Lads in the Hallarflöt area of the Dimmuborgir lava fields every day between 1 p.m. and 3 p.m. Then, two weeks before Christmas, the lads come down from their mountain home to take their Annual Bath at Myvatn Nature Baths; this year it falls on Saturday, December 14, at 5 p.m.


Saint Nicholas' Day, Germany - Not to be confused with Weihnachtsmann (Father Christmas), Nikolaus travels by donkey in the middle of the night on December 6 (Nikolaus Tag) and leaves little treats like coins, chocolate, oranges and toys in the shoes of good children all over Germany. St. Nicholas also visits children in schools or at home and in exchange for sweets or a small present each child must recite a poem, sing a song or draw a picture. But it isn't always fun and games. St. Nick often brings along Knecht Ruprecht. A devil-like character dressed in dark clothes covered with bells and a dirty beard, Knecht Ruprecht carries a stick or a small whip in hand to punish any children who misbehave.


Gavle Goat, Sweden - Since 1966, a 43-foot-tall Swedish Yule Goat has been built in the centre of Gavle's Castle Square for the Christmas Advent, but this festive tradition has unwittingly led to another "tradition" of sorts -- people trying to burn it down. In its 47-year history, the Goat has been successfully burned down 26 times -- the most recent destruction was in 2012. If you want to see how the Goat fares this year when it goes up on December 1, you can follow its progress on the Visit Gavle website through a live video stream.

Rounding out our list of festive rituals are five more traditional holiday celebrations: Day of the Little Candles, Colombia; Lighting of National Hanukkah Menorah, Washington D.C.; Giant Lantern Festival, Philippines; Fête des Lumières, France; and Cavalcade of Lights, Toronto, Canada. To read Cheapflights.ca's complete list of Top 10 Weird and Wonderful Festive Traditions, visit www.cheapflights.ca/travel/top-10-weird-and-wonderful-festive-traditions.
About Cheapflights.ca, part of the Momondo Group
Momondo Group is an online travel media and technology company that is driven by the belief that an open world is a better world. The group now serves travel search and inspiration to over 13 million visitors a month -- plus 7 million travel newsletter subscribers -- via its Cheapflights (www.cheapflights.ca) and momondo (www.momondo.com) brands.
Skygate began the sourcing of complex air-travel data in 1992, while Cheapflights pioneered the online comparison of flight deals for users in 1996 and momondo launched meta-search in the Nordic countries in 2006.
The Group has offices in London, Copenhagen, Boston and Toronto, with a consumer base across more than 20 core international markets but users all over the world.
Follow us on Twitter: twitter.com/cheapflights
Follow us on Facebook: www.facebook.com/cheapflights
Contact Information:
Contact Information:
Cheapflights.ca
Mobile: +1 416-788-4573
E-mail:
Website: www.cheapflights.ca