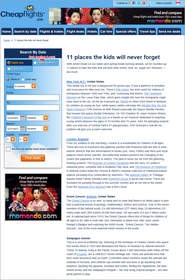 Screenshot of Cheapflights.ca's list of 11 Places the Kids Will Never Forget. Give kids the gift of travel this year. Our list offers destinations around the world where kids will not only have fun, but will learn through memorable experiences. Now that's the best gift ever.
TORONTO, ON--(Marketwired - Dec 4, 2013) - Wondering what to give the kids this year? With the holidays quickly approaching, the travel experts at Cheapflights.ca, the online leader in finding and publishing travel deals, suggest giving kids the gift of travel. Cheapflights.ca's list of 11 Places the Kids Will Never Forget offers destinations where children will not only have fun, but will learn through memorable experiences. Now that's the best gift ever.
Below are five places from our list in the Americas where kids will not only have fun, but will get the best kind of education as they discover new and exciting adventures. The memories created together will be priceless. 
New York, N.Y., United States - This stellar city is not just a playground for grown-ups. It has a plethora of activities and must-sees for little ones too. There's Ellis Island, the entry point for millions of immigrants between 1892 and 1954, and, continuing that theme, The Tenement Museum on the Lower East Side, which gives insight into how new arrivals might have lived in the city. As far as museums go, MoMA on West 53rd Street is fantastic for children as young as four, while space cadets will enjoy the Intrepid Sea, Air and Space Museum (12th Avenue at 46th Street) especially the Space Shuttle Pavilion that houses the space shuttle Enterprise. On 103 Charlton St. (near Hudson Street), the Children's Museum of the Arts is a hands-on art museum dedicated to inspiring young artists between the ages of 10 months and 15 years. And, for splurging (maybe after you visit one of Central Park's 21 playgrounds), FAO Schwarz's real-life toy soldiers will give you a warm welcome.


Grand Canyon, Arizona, United States - The Grand Canyon is so vast, so deep and so wide that there's no better place to give kids a practical lesson in geology, mathematics, history and science. One of the seven wonders of the natural world, it's 446 kilometres (277 miles) long, 29 kilometres (18 miles) wide and1,800 metres (6,000 feet) deep. Oh and parts of it are 2 billion years old. A national park since 1919, the Grand Canyon offers lots of things for children of all ages to do: take a mule ride, bus, helicopter or plane tour, hike, earn Junior Ranger's Badges and watching the IMAX movie, "Grand Canyon: The Hidden Secrets", one of the most-watched IMAX movies in the world.


Galapagos Islands - This is a once-in-a-lifetime trip, following in the footsteps of Charles Darwin who spent five weeks there in 1835 and developed the theory of evolution by natural selection. These 19 islands, lying in the Pacific Ocean about 1,000 kilometres (600 miles) off the coast of Ecuador, are a UNESCO World Heritage site. There are animals here that don't exist anywhere else on Earth. Controlled visitor numbers mean the animals are unafraid of humans, and children can snorkel with sea lions or go kayaking with dolphins. Spotting the iguanas, tortoises and turtles, finding the frigatebirds, the blue-footed booby and the Galápagos Penguin -- the only living tropical penguin -- are also great games to play.


Alberta, Canada - We could have listed the fossils and life-size models in the dinosaur halls of the American Museum of Natural History in New York, but Dinosaur Provincial Park, 48 kilometres (30 miles) northeast of Brooks, Alberta, has real-life "Jurassic Park" possibilities -- in a way. There are guided hikes and tours as well as the opportunity to join a dinosaur excavation. More than 300 dinosaur skeletons have been discovered in a 27-kilometre (17-mile) stretch of the Red Deer River in about 100 years. If family members get tired of being outdoors, the Royal Tyrrell Museum, 100 kilometres (62 miles) away, is the only museum in Canada that's dedicated to the science of palaeontology. Of course it has one of the largest displays of dinosaurs in the world.


Orlando, Fla. United States - Sometimes children really, really need to play and have their imaginations stoked by their favourite TV and film characters. In Orlando there are enough attractions to keep them busy for months, if not years. LEGOLAND Florida is the world's largest LEGOLAND, spanning 150 acres (hopefully you won't step on any of the tiny LEGOs). Epcot is 305 acres of Disney-packed fun. Universal Studios Islands of Adventure is where you'll find the Wizarding World of Harry Potter and if you didn't find any dinosaurs in Alberta, you can see them on the Jurassic Park River Adventure. Granddaddy of them all, Disney's Magic Kingdom, has six themed areas (Main Street USA, Adventureland, Frontierland, Liberty Square, Tomorrowland and Fantasyland), the magical Cinderella's Castle and all the classic Disney stars.
Rounding out our list of places where kids will enjoy experiences of a lifetime are: London, England; Rome, Italy; Great Wall, China; Cairo, Egypt; Nantes, France; and Dunedin, New Zealand. To read Cheapflights.ca's complete list of 11 Places the Kids Will Never Forget, visit www.cheapflights.ca/travel/11-places-the-kids-will-never-forget.
About Cheapflights.ca, part of the Momondo Group
Momondo Group is an online travel media and technology company that is driven by the belief that an open world is a better world. The group now serves travel search and inspiration to over 13 million visitors a month -- plus 7 million travel newsletter subscribers -- via its Cheapflights (www.cheapflights.ca) and momondo (www.momondo.com) brands.
Skygate began the sourcing of complex air-travel data in 1992, while Cheapflights pioneered the online comparison of flight deals for users in 1996 and momondo launched meta-search in the Nordic countries in 2006.
The Group has offices in London, Copenhagen, Boston and Toronto, with a consumer base across more than 20 core international markets but users all over the world.
Follow us on Twitter: twitter.com/cheapflights
Follow us on Facebook: www.facebook.com/cheapflights
Contact Information:
Contact Information:
Cheapflights.ca
Mobile: +1 416-788-4573
E-mail:
Website: www.cheapflights.ca