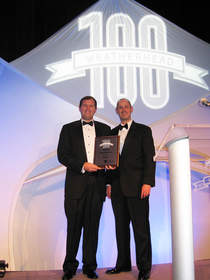 AtNetPlus President Jim Laber and CEO Jay Mellon celebrate at the 2013 Weatherhead 100 Gala.
STOW, OH--(Marketwired - Dec 5, 2013) - Northeast Ohio's leading Cloud and IT services provider, AtNetPlus, Inc., today announced that the company was included in the Weatherhead 100 for the fifth consecutive year. This year they ranked 56th on this prestigious list of the fastest growing companies in Northeast Ohio.
AtNetPlus CEO Jay Mellon noted, "This award is the result of a lot of hard work on the part of everyone on our staff. We are honored to receive this recognition on their behalf. It's a great way to wrap up the year and serves as a catalyst to strengthen our efforts to find ways to better serve our customers and grow the company."
Visit AtNetPlus News for photos and additional information about AtNetPlus.
About AtNetPlus
Attentive IT support from AtNetPlus keeps your business technology connected, secure, and working. 
Contact Information:
Editorial Contact:
Ellen Kurr
Director of Brand Experience
AtNetPlus, Inc.
Phone: 330-945-5685
Fax: 330-945-5684
news@atnetplus.com
http://www.AtNetPlus.com