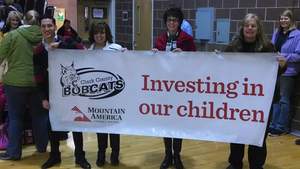 Mountain America Credit Union's Tim Toy, AVP branches; Christy Zaudke, VP branches; and Tami Holmes, Idaho Falls branch manager present 25 computers to Susie Shifflett, director of technology for Clark County School District.
WEST JORDAN, UT--(Marketwired - Mar 18, 2014) - Mountain America Credit Union recently partnered with Clark County School District in Dubois, Idaho, to donate 25 computers and flat panel monitors for student use. Mountain America has been devoted to serving its community partners and is excited about this new relationship with Clark County School District.
Susie Shifflett, director of technology for Clark County School District, recently approached Alex Barker, senior vice president of information technology at Mountain America, about a possible donation. "At Mountain America, contributing to the communities in which we operate is central to who we are. That's why when I received a call from Susie, asking whether or not we could donate a computer or two for their students to use, we jumped at the chance," said Barker.
"We feel that contributing to the education of the children of Clark County is a great cause so instead of one or two, we donated 25 well-maintained PCs and flat-panel monitors. Mountain America phases out PCs after about three or four years, and we typically donate them to groups like Clark County School District, where they will be put to good use," noted Barker.
Mountain America strives to create win-win opportunities for everyone involved. Mountain America is pleased the students will be able to utilize the donated equipment for many years to come.
Mountain America Credit Union has more than $3.8 billion in assets and serves more than 457,000 members, wherever they are, through online and mobile banking, 76 branches in five states, and provides access to more than 30,000 ATMs and 5,000 shared-branching locations nationwide. With credit union roots dating back to the 1930s, Mountain America has become a tradition for many members, and offers a variety of financial products and services for consumers and businesses, including checking and savings accounts, auto loans, mortgage loans, business checking, student loans, SBA loans and retirement options. Visit www.macu.com for more information.
Contact Information:
Media Contact:
Bryan Packer
Mountain America Credit Union
801-325-6439