2u24BayAbilitySSDEBOD: RAID Inc.'s 2U 24-Bay Ability® SSD EBOD

4U60BayAbilityEBOD: RAID Inc.'s 4U 60-Bay Ability® EBOD

Windows2012R2certified: Microsoft Windows 2012 R2 Certification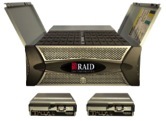 AbilityStorageServer: RAID Inc.'s Ability® Storage Server
ANDOVER, MA--(Marketwired - Mar 18, 2014) -   RAID Incorporated (RAID Inc.) has earned a Microsoft Windows 2012 R2 Certification. The certification indicates that RAID Inc.'s hardware and software solutions meet Microsoft standards for compatibility and recommended practices with the respective Windows Server operating systems.
RAID Inc.'s Ability® Storage Servers have earned the certification because they are fully supported in Hyper-V environment. RAID Inc. certified products include the 4U 60 Bay Ability EBOD and the 2U 24 Bay Ability EBOD SSD.
The Ability® Storage Server is an ultra-dense, high performance solution designed for, Windows Server 2012, various I/O server and ZFS applications. The server nodes [E5 2600 family] provide advanced capabilities to retrieve data from 60 full-height drives and protect against data loss in the event of power faults using an optional backup battery pack. In addition, a nontransparent bus allows bridging of two server nodes for redundancy or computational expansion.
RAID Inc.'s 2U 24-Bay Ability SSD EBOD is a purpose-built storage solution designed for high performance storage application utilizing the latest 6G SAS architecture with ability to scale in capacity simply. It offers best-in-class performance, space saving density, "green" energy efficiency and 24x7 high-availability redundancy of key components.
The 4U 60-Bay Ability EBOD solution enables massive data capacity applications, at a price/performance point per Gigabyte (GB) that meets a range of requirements. With tiering functionality enabled through R2 and 8 external SAS ports makes this solution a perfect fit for any Microsoft applications.
 "The Windows 2012 R2 certification provides a valuable, external reaffirmation of the quality of RAID Inc.'s Ability Storage Server solutions," says RAID Inc. CEO Bob Picardi. "We are excited to offer our customers top-of-line solutions, warranting continued Microsoft support."
To learn more, visit www.raidinc.com, or contact Maggie Loff at (401) 272-1300 or mloff@tribalvision.com.
About RAID Incorporated
RAID, Inc. is an end-to-end, high-performance solution provider focused on the cutting edge of technology in the high-performance market. RAID Inc.'s clients receive customized technical computing solutions incorporating parallel file systems, storage, interconnect and compute clusters. RAID Inc. partners with customers to develop proof-of-concept initiatives for new technology deployments.