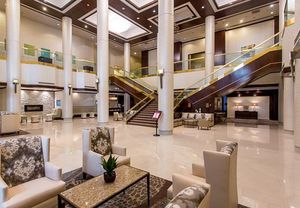 The largest furnishings industry trade show in the world, the High Point Market, will bring over 75,000 people to central North Carolina in early April.
GREENSBORO, NC--(Marketwired - Mar 24, 2014) - Spring is in the air and the annual High Point Market is set to bloom with the latest in fine furnishings when it opens on April 5, 2014 for six days in High Point, NC. As the largest furnishings industry trade show in the world, the market is expected to bring more than 75,000 persons to central North Carolina for discovery of the latest and greatest in home fashions.
Set to run through Thursday, April 10 the event welcomes serious retail home furnishing buyers to more than 11 million square feet of displays across 180 buildings in High Point's downtown showroom district. Bringing together furniture buyers, sellers, sponsors and designers for a remarkable week of events, anticipation of the show has nearby Greensboro conference rooms and hotels gearing up to welcome attendees with meeting spaces and lodging. Held every six months, this High Point event is famous for representing everything that's available in the home furnishing industry.
The prominent Greensboro Marriott Downtown is one of the many area hotels set to welcome attendees and the more than 2,000 exhibitors from over 100 countries that will be displaying and introducing thousands of exciting new products. Located just a few minutes from High Point, the Greensboro Marriott Downtown puts guests within easy reach of the South Market Center Drive Area Park and Ride location for convenient shuttle service into High Point. Situated near Greensboro Coliseum, the hotel's convenient location and handy access to show exhibits helps to eliminate the stress of traffic congestion and downtown parking so attendees can focus on exploring all the home furnishings and accessories this massive marketing event has to offer.
Accommodations at the Greensboro Marriott Downtown include well-appointed guest rooms and spacious suites with all the amenities need for a productive stay. The hotel also features 24,000 square feet of high-tech meeting space, ideal for hosting spin-off meetings and socials for marketing agents, buyers, designers, decorators, buyers and others attending this home fashion event of the season. Full service catering is also offered providing inspirational menus that may be customized for business meetings or social gatherings.
About the Greensboro Marriott Downtown
The Greensboro Marriott Downtown welcomes North Carolina travelers to the relaxed atmosphere of Greensboro's revitalized downtown district with gracious accommodations, lavish amenities and attentive service. Ensuring guests have everything needed for a remarkable stay, luxury linens and room service are standard amenities and guests have access to a state-of-the-art fitness center and heated indoor pool. Casual on-site dining is offered for breakfast, lunch and dinner at the Bistro 40 and the hotel lounge is an ideal stop for a cocktail and dinner. The hotel's location near UNC Greensboro also puts guests in the midst of a variety of downtown restaurants and pubs, antique shops, boutiques and attractions.
Contact Information:
CONTACT:
Greensboro Marriott Downtown
304 North Greene Street
Greensboro, North Carolina 27401 USA
1-336-379-8000
http://www.marriott.com/hotels/event-planning/business-meeting/gsodt-greensboro-marriott-downtown/