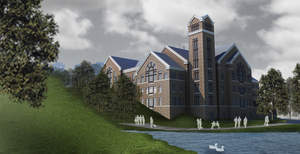 EPS Geofoam from ACH Foam Technologies was specified to reduce the surcharge on a steep slope at Augustana College's new Center for Student Life. Rendering: BLDD Architects.
DENVER, CO--(Marketwired - Apr 1, 2014) - Slope stability was a major sticking point for engineers at Augustana College. The new Center for Student Life was added to the existing library building set on top of a steep hill. Part of the building is cut into the hillside to create a basement space, while the other built up to create an upper floor. According to KJWW Engineering Consultants' lead structural engineer, Eric Reinsch, P.E., because the addition was so close to the hill engineers were concerned that there would be a slope stability issue if the area under the kitchen/loading dock was backfilled with soil up to the fifth floor elevation.
Reinsch explained, "The north retaining wall was revised to be more a standard wall and the soil fill behind it was substituted with lightweight EPS geofoam to reduce the surcharge on the hillside and wall. By removing the soil we were able to reduce the wall thickness and design to be more of a traditional wall. Geopiers were used to support the footings and to densify the soil along the top of the hill. EPS Geofoam 15 from ACH Foam Technologies was selected because of its density and compressive resistance."
Russell Construction's project manager, Brian Hedgren, explained, "The most difficult aspect of this project was installing the fill around hundreds of pipes under the kitchen area. We used ACH's suggestion to cut the small pieces of geofoam with hot wire right on the jobsite. We'd surround each pipe with small geofoam pieces, leaving a trench for the pipe to fit in, and then filled that with concrete. This held the puzzle together and also provided some additional protection for the pipes. In the other fill areas, all we had to do is start with a nice level base, and then stack the geofoam blocks right up. It was the best choice for alternative fill materials and the least expensive."
For more information visit http://www.achfoam.com or phone 800.525.8697.