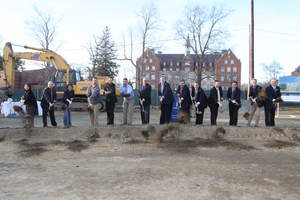 Windover Construction Breaks Ground at St. John's Prep: (from L to R) Madeline Le; Joe Marshall; Shannon Long; Dave Henderson; Ken Kovachs; John Merchant; Lee Dellicker; David W. Ives; Bernard L. Caniff; Edward P. Hardiman; Steven Cunningham; Stuart Meurer; David Crouteau; Keith A. Crowley
MANCHESTER, MA--(Marketwired - Apr 10, 2014) - Windover Construction is pleased to announce construction has officially begun at St. John's Prep in Danvers on a 74,000 square-foot, five-story academic building to house the school's Computer Science, Mathematics, Science, and World Languages departments. Headmaster Edward P. Hardiman, PhD and Principal Keith A. Crowley, PhD led the April 3rd groundbreaking ceremony. The new facility is expected to be completed in September of 2015. St. John's is a Xaverian Brothers sponsored school for young men in grades 6 through 12.
The new building expands on the concept of STEM education (science, technology, engineering and mathematics) to include a campus-wide focus on multi-disciplinary education. Highlights of the building include a robotics lab, a seminar room, a study room, flexible work and meeting spaces, and a two-story, multi-purpose lobby on the first floor. Design elements such as interior glass walls will be used extensively throughout the first and second floors to visually engage students with the projects and activities going on inside. This concept extends to the exterior of the building, where outdoor spaces will allow students to carry conversations beyond the classroom. It will be fully accessible and is designed to meet the requirements for Leadership in Energy and Environmental Design (LEED) Silver certification.
Windover is renowned for their work on education institutions throughout New England, including The Cambridge School of Weston; Montserrat College of Art in Beverly; Brookwood School in Manchester; The Governor's Academy in Byfield; Phillips Academy in Andover, Phillips Exeter Academy in Exeter, NH and Endicott College in Beverly. 
Windover creates state-of-the-art commercial and institutional spaces, sophisticated luxury homes, and urban multi-family communities, all executed with a passion for attention to detail. The winner of numerous industry awards, the firm's skilled team of professionals possesses a deep understanding of the construction process and collaborates with clients to provide an exceptional experience from inception of their project to completion. The firm is headquartered in Manchester, Massachusetts, and works with clients throughout New England. For additional information, call 978-526-9410; visit the company website at www.windover.com or email at info@windover.com.
Contact Information:
Press inquiries; please contact
Joanne DiFrancesco
JDCommunications, Inc.
781-828-0323
jdcomm@comcast.net.