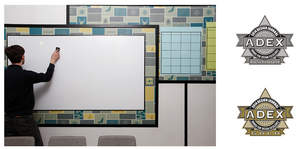 Winning materials VM-DRYerase, and VM-Bamboo 17 installed at WeWork Soho in New York; ADEX Platnium and Gold Award Logos.
MENDON, MA--(Marketwired - Apr 15, 2014) - Three magnetic receptive print substrates from Visual Magnetics' MagnaMedia® product line, VM-DRYerase™, VM-CHALKboard™ and VM-Bamboo™17, have won Awards for Design Excellence (ADEX). The ADEX awards are the largest and most prestigious awards for product and project design in the A&D industry, and are sponsored by the industry publication Design Journal. Each category of the awards has the potential for three award levels -- platinum, gold or silver. Both VM-CHALKboard and VM-DRYerase won platinum level awards and VM-Bamboo won a gold level award.
VM-DRYerase and VM-CHALKboard are both printable media that can be used as writable surfaces in wall-to-wall collaborative environments, and in combination with other MagnaMedia materials. These products are being widely adopted by corporate offices, co-working spaces like WeWork and institutions such as the School of Visual Arts, New York as a higher quality alternatives to common dry-erase or chalkboard paints and boards. VM-Bamboo is a printable, sustainable 100% bamboo fabric with a matte finish and smooth-weave texture. It is ideal for lightly textured photo reproductions and wall coverings, and is part of the company's Digital Fabrics Collection, which includes five fabrics that can be used as textured wall décor to bring luxury to spaces.
"We are happy to see Visual Magnetics' specialty writable and fabric media gaining recognition within the A&D community," said Joe Deetz, CEO of Visual Magnetics. "We've spent years developing these substrates to be versatile, eco-friendly, PVC-free and of superior quality. These materials give architects and designers more flexibility to transform environments using layers, and by mixing textures and finishes. Winning these awards is a testament to the quality of our products and their cross-market success."
DOWNLOAD the PDF release and images for the story
WATCH Visual Magnetics' Videos on Vimeo.com
About Visual Magnetics
Visual Magnetics has been transforming walls and surfaces since CEO Joe Deetz invented magnetic paint in 1992. In 2007, the company introduced MagnaMedia®, the world's first magnetic-receptive print media. MagnaMedia is a component of the award winning Visual Magnetics Graphic System®, which is used by over 300 leading retailers as an elegant and cost-effective solution for in-store graphics. Visual Magnetics' materials can be used in a multitude of different environments such as offices, museums and homes to create truly Dynamic Spaces® combining functionality and high design. With over 17 unique finishing options such as fabrics, veneers and dry-erase, all MagnaMedia is made in the USA and is PVC-free, with an entire line dedicated to 100% post-consumer and natural, sustainable bases. For more information please visit www.visualmagnetics.com.
Contact Information:
Press Contact:
Naomi Mukai
Manager, PR/Digital Strategy
Email:
Telephone: 917-975-2660