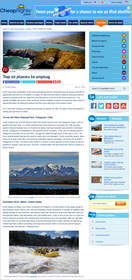 Blog post on Cheapflights.com's Top 10 Places to Unplug. In honor of Earth Day, April 22, this list features destinations where you can disconnect from the noise and toys of the modern world and really connect with the beauty and majesty of nature.
BOSTON, MA--(Marketwired - Apr 16, 2014) - Next Tuesday, April 22nd, over one billion people in over 190 countries will be taking part in Earth Day celebrations. Celebrating its 44th anniversary, Earth Day is an annual reminder to appreciate and care for our precious planet. In appreciation of Mother Earth, the travel experts at Cheapflights.com, the online leader in finding and publishing travel deals, suggest we stop and really smell the roses this year. The team has compiled a list of Top 10 Places to Unplug to help you disconnect from the noise and toys of the modern world and really connect with the beauty and majesty of nature.
Stop, take a breath and savor our planet at these five places in the Americas to go, unplug and become one with nature.
Torres del Paine National Park, Patagonia, Chile -- At the southern tip of South America where the Andes met the sea, the Patagonia region, part Argentina and part Chile, is a world removed from most everyone's everyday life. With growing glaciers that periodically toss ice chunks into lakes, towering mountain tops and wild, windswept terrain, Patagonia is a testament to the powerful forces of nature. There are six national parks in Patagonia, including Torres del Paine. Though fire swept through much of the park in 2011, the three granite peaks that give the park its name were not damaged. These monolithic peaks, which reach more than 9,000 feet, are joined by waterfalls, glaciers and lakes, all fed by the Southern Patagonia Ice Field. The park is also home to a dozen or more species of birds of prey as well as guanacos, pumas, foxes as more. Out here, in these wilds, the best electronic device to pack is a great camera.


Kennebec River, Maine, United States -- In the depths of Maine, four hours northwest of Portland, a 12-mile stretch of the upper gorge of the Kennebec River offers a wet, wild and definitely remote adventure. A handful of outfitters offer rafting outings on the Kennebec and nearby Dead and Penobscot Rivers are filled with class two through five rapids. Part adrenaline rush, part splash park, a day or two on the river is a sure fire way to immerse yourself in the moment and truly embrace your surroundings. After all, with high rock walls that cut out most data feeds, a phone-drowning flood of water and the occasional up ended boat that scatters everything and everyone aboard, there is not much point in trying to communicate with anyone or anything else.


Salkantay Trek to Machu Picchu, Peru -- The Salkantay Trek may be the long way to the Lost City of the Incas, but it will get you off the beaten path, literally. An alternative to the increasingly popular and crowded Inca Trail, this trek can vary from a five- to seven-day journey and takes you more than 15,000 feet in elevation before dropping down to the cloud forest and then back up to Machu Picchu itself. Make your way through the Salkantay Pass in the shadow of its 20,000 foot summit, pass through the 15 ecosystems, with everything from hanging glaciers to orchids and butterflies, or catch your first glimpse of the ancient mountain-top ruins -- just don't expect to "check-in" unless you have a satellite phone.


The lakes of northwestern Ontario, Canada -- Why go fly fishing when you can go "fly-in" fishing? Much of upper Ontario is peppered with lakes of all sizes (and not much else). The more remote the lake, the more fish there are. So, for a chance to match wits with a 20-inch walleye or fight the good fight with a 30-pound pike, your best bet may be to board a small float plane and wing off to the wilderness for a week. Outfitters offer cabins and lodges in secluded spots (often the only house on a lake) throughout Ontario, flight included. Many promise you will see plenty of fish, game, great sunrises and peace and quiet but that you won't hear a car engine the whole time you're there.


Green Bank, West Virginia, United States -- To find out about nature beyond our planet, sometimes it requires shutting down the electronic noise in our own backyard. In Green Bank, W.V., the use of cell phones, Wi-Fi or anything else that emits a radio frequency is forbidden. The reason? The town is home to the giant Green Bank Telescope, which uses radio signals to explore space. The telescope is surrounded by a 13,000 square mile National Radio Quiet Zone, which covers the eastern half of West Virginia and into a corner of Virginia. The FCC picked this region in the 1950s in part because the Alleghany Mountains served as a natural shield from signals that would interfere with the telescope's work. So, whether you want a front row view of space exploration or an extremely quiet trip to the mountains (there are two national parks in the radio-free zone), this is your chance. Just bring some change for the pay phone.


Rounding out our list are five destinations from around the globe where Mother Nature can be experienced in full (and undistracted) splendor. These include: Great Ocean Ecolodge, Cape Otway, Australia; Koh Tonsay, Cambodia; Tarangire National Park, Tanzania; Bardsey Island, Wales; and Khan Khentii, Mongolia. To read the details on these and Cheapflights.com's complete list of Top 10 Places to Unplug visit www.cheapflights.com/news/top-10-places-unplug.
About Cheapflights.com, part of the Momondo Group
Momondo Group is an online travel media and technology company that is driven by the belief that an open world is a better world. The group now serves travel search and inspiration to over 17.5 million visitors a month -- plus 7 million travel newsletter subscribers -- via its Cheapflights (www.cheapflights.com) and momondo (www.momondo.com) brands.
Skygate began the sourcing of complex air-travel data in 1992, while Cheapflights pioneered the online comparison of flight deals for users in 1996 and momondo launched meta-search in the Nordic countries in 2006.
The Group has offices in London, Copenhagen, Boston and Toronto, with a consumer base across more than 29 core international markets and users all over the world.
Follow us on Twitter: twitter.com/cheapflights
Follow us on Facebook: www.facebook.com/cheapflights
Contact Information:
Contact Information:
Cheapflights.com
Tel: +1 416-788-4573
E-mail:
Website: www.cheapflights.com