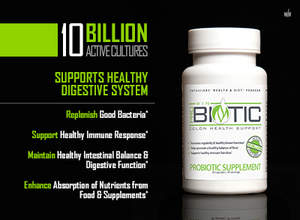 Wellness International Network's new WIN Probiotic, supporting a healthy digestive system
PLANO, TX--(Marketwired - Apr 23, 2014) - Wellness International Network's latest nutritional supplement is centered around making your gut happy. WIN Probiotic™ is packed with 10-billion active cultures and helps you stay ahead of the curve by ensuring your gut maintains the proper balance of good bacteria.* We all know that today's diet and lifestyle doesn't always provide enough good bacteria for our digestive system to operate in its prime. With an estimated 70 percent of your immune cells residing in your digestive tract, it's important to arm it with the beneficial bacteria it needs -- now you can with WIN's convenient, daily supplement WIN Probiotic™.*
WIN Probiotic's unique formula contains five strains of beneficial bacteria and is specially designed to survive stomach acid during the digestive process, allowing it to reach the intestine safely, providing you with all of its wonderful benefits: replenishing good bacteria, supporting healthy immune response, maintaining healthy intestinal balance and digestive function and enhancing absorption of nutrients from food and supplements.* Plus, WIN Probiotic does not require refrigeration, making it easy to keep with you at all times.
WIN Probiotic is yet another high-quality supplement offered by Wellness International Network, known for its best-selling weight-management line the BioLean® System and energy drink-mix Winrgy. Wellness International Network stands behind its products offering customers a 30-day, money-back guarantee.
*This statement has not been evaluated by the FDA. This product is not intended to diagnose, treat, cure, or prevent any disease.
About Wellness International Network, Ltd. (WIN)
 Founded in 1992 by Ralph Oats and his wife, Cathy, Wellness International Network operates in many countries throughout North America, Europe and Africa. A leader in transformational health and nutritional products, Wellness International Network, Ltd. is headquartered in Plano, Texas, with affiliates located in Hoofddorp, Holland; and Johannesburg, South Africa. Management Team 500 Magazine has selected Wellness International Network as a Top 500 company for four years. Wellness International Network participates in the Netherlands Security System Nutritional Supplements Top Elite Sports [NZVT] program with a number of our products white listed as safe for top athletes. For more information visit: www.necedo.nl/nzvt. WIN's products are listed in the Z-Index, a database of products associated with the public pharmacy, used by doctors, pharmacists, businesses and government. Learn more about why "It Pays to Live Well" at wellnessinternational.com.
Contact Information:
Contact:
Wellness International Network, Ltd.