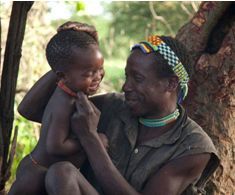 Now endangered, The Hadza have lived sustainably in Rift Valley for over 50,000 years. Photo Credit: Benenson Productions
NEW YORK, NY--(Marketwired - May 12, 2014) -
What:
Documentary THE HADZA: LAST OF THE FIRST screening as sidebar event at United Nations Permanent Forum on Indigenous Issues
When:
Thursday, May 15, 6:30-8:00pm
Where:
United Nations
NLB7 (North Lawn Building room 7
Who:
Bill Benenson, Producer/Director
Gina Cosentino, Global Director of Indigenous and Communal Conservation at The Nature Conservancy
Why:
The Hadza are the last people on the planet to live continuously as our earliest ancestors did in the exact place of our collective birth, the Rift Valley in Tanzania. Now threatened by environmental and political forces, the Hadza's survival is vital. 
According to Ms. Cosentino, "Indigenous peoples' land rights and stewardship is essential for the well-being of nature upon which we all depend. This documentary is an important reminder of that."
About Bill Benenson: Best known for his award-winning documentaries Dirt! The Movie, The Marginal Way and Diamond Rivers, Mr. Benenson is also working on a documentary about the search for a lost Pre-Columbian city in Central America using LIDAR technology, work for which he was awarded the prestigious Leading Global Thinkers Award from Foreign Policy magazine and garnered expansive media coverage: http://www.newyorker.com/reporting/2013/05/06/130506fa_fact_preston). 
The Nature Conservancy
The Nature Conservancy is a leading conservation organization working around the world to protect ecologically important lands and waters for nature and people. The Conservancy and its more than 1 million members have protected nearly 120 million acres worldwide. The Indigenous and Communal Conservation program of the Conservancy works with Indigenous peoples around the world to advance sustainable development and resource management, secure tenure, and promote Indigenous rights to their lands, territories and natural resources. bit.ly/1kKcOoJ The Nature Conservancy's Hadza Project: http://www.nature.org/hadza
The Hadza: Last of the First: https://www.facebook.com/TheHadzaLastOfTheFirst 
http://www.thehadzalastofthefirst.com/ 
Contact Information:
Media Contacts:
The Nature Conservancy:
Geraldine Henrich-Koenis
ghenrich-koenis@tnc.org
703-841-3939

Benenson Productions:
Maggie Begley/MBC
Maggie@mbcprinc.com
310.390.0101
Mobile: 310.749.3055