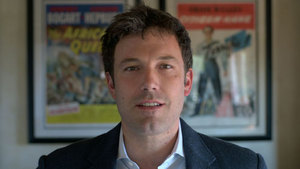 Ben Affleck is working to encourage support for our brave servicemen and women by joining forces with Paralyzed Veterans of America (Paralyzed Veterans) in a new public service campaign that honors the real-life heroes who have valiantly fought for our country and are now paralyzed for life.
Ben Affleck Supports Paralyzed Veterans of America: 30 sec
WASHINGTON, DC--(Marketwired - May 20, 2014) - Ben Affleck, known around the world for his award-winning work as a film director, producer, actor and writer, is appearing in a new television and radio public service announcement (PSA) for Paralyzed Veterans of America (Paralyzed Veterans).
Outside of Hollywood, Ben Affleck's important work includes encouraging support for our nation's injured veterans. In the PSA titled "Never Leave a Fallen Comrade Behind" (:60, :30, :15), Ben Affleck pays tribute to the thousands of veterans who have returned home with devastating injuries after serving in Iraq and Afghanistan. He discusses how Paralyzed Veterans works to ensure that our heroes receive the proper care, services and support needed to rebuild their lives. Paralyzed Veterans does this by advocating for quality medical care, accessible housing and rehabilitation. Paralyzed Veterans also provides assistance with counseling, job training and long term support -- all at no cost to the veteran. Through these PSAs, Affleck reminds us of the importance of never forgetting our country's heroes and encourages us to make a difference by helping those who have served.
Paralyzed Veterans of America works to positively change lives and build brighter futures for our nation's veterans with disabilities and their families, through our broad range of services and expertise. Whether it's fighting for quality health care and decent benefits for all who served, providing opportunities to get back into life through adaptive sports, helping veterans with disabilities get good jobs and careers, advancing a barrier-free America, educating clinicians about spinal cord injury/dysfunction, or investing in a cure for paralysis, Paralyzed Veterans leads the way in empowering people with disabilities with everything they need to live full and productive lives. For more information, please visit www.PVA.org.
On behalf of those who have served, are serving, and will serve, thank you for your support.
Founded in 1946, Paralyzed Veterans of America is chartered by the U.S. Congress and is a 501(c)(3) nonprofit organization. Our Federal Tax ID number is 13-1946868. 
Contact Information:
Contact:
Connect360 Multimedia
info@c360m.com
212-624-9180