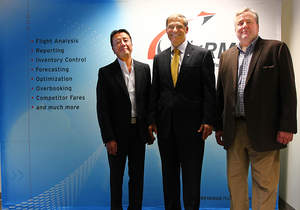 Revenue Management Systems' Lawrence Siao, Vice President of Marketing – Asia (Left) and Scott Schade, CEO (Right) stand with Washington Governor Jay Inslee (Center) at their Seattle, Washington Headquarters
SEATTLE, WA--(Marketwired - Jul 9, 2014) - Washington Governor Jay Inslee recently made a visit to the Seattle headquarters of Revenue Management Systems (RMS) during Washington Aerospace Partnership's Pre Farnborough Reception which RMS cohosted. Governor Inslee congratulated RMS on the signing of their first customer in China: Beijing Capital Airlines. Washington is home to 1,350+ aerospace-related business establishments that design and manufacture products ranging from tires to bolts to in-flight entertainment systems. There is at least one aerospace-related company in 35 of Washington's 39 counties. Revenue Management Systems, a global leader in revenue management software, exemplifies Washington State's importance in the global aerospace industry.
"One of Governor Inslee's top priorities is to encourage innovation and entrepreneurship in a competitive global economy," said Lawrence Siao, Vice President of Marketing - Asia. "Beijing Capital Airlines decision to choose airRM, the state-of-the-art revenue management system from RMS, is another example of Washington State's role as a leader in the global aerospace business. We look forward to working with Beijing Capital Airlines and thank Governor Inslee for his continued support and promotion of Washington's aerospace industry."
More information about Capital Airlines may be found at www.capitalairlines.com.cn.
Revenue Management Systems has been developing airline revenue management systems in cooperation with some of the most successful airlines in the world today. Their most popular product, airRM, is used by over 40 airlines including Ryanair (Ireland), AirAsia (Malaysia) and Jetstar (Australia). airRMexpress, their newest offering, brings affordable forecasting and optimization technology to the hundreds of small airlines around the world. Together, airRM and airRMexpress help airlines realize higher revenues and increased staff productivity. RMS, founded in 1996, is a privately held company headquartered in Seattle, Washington (USA) with offices in Australia, Great Britain, The Netherlands, Spain and soon, Singapore.
More information about airRM, airRMexpress and RMS can be found at www.revenuemanagement.com.
Contact Information:
Revenue Management Systems, Inc.
Martin Kaduc
+1 206 518 5198