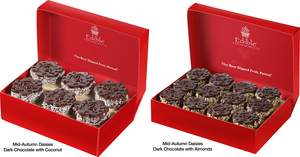 Mid-Autumn Daisies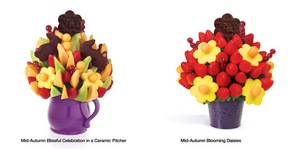 Mid-Autumn Blissful Celebration & Mid-Autumn Blooming Daisies
HONG KONG, CHINA--(Marketwired - Jul 14, 2014) - Edible Arrangements® Hong Kong once again surpasses expectations of traditional Mid-Autumn Festival celebrations! This year we are introducing a third-year generation of fresh fruit mooncakes -- improved profound taste using the highest quality ingredients available worldwide. Our mooncakes, Mid-Autumn Daisies, are crafted with the traditional form in mind, however, we create a quintessential modern version of the mooncake with the core of delicate, fresh pineapple topped with gourmet semi-sweet chocolate.
Each mooncake daisy is carefully crafted by hand and the entire process from its inception to the final gift is controlled very step of way. Freshest fruit is picked by our Fruit Experts® every day; only the best produce is used in the production. Our pineapples originate from all over the world, depending on seasonal changes and availability. Each mooncake daisy is then sculpted from a juicy pineapple and prepared for the final stages of chocolate dipping. The process is delicate and thoughtful; it allows for the most delicious mooncake daisies to be crafted and delivered to our guests.
This year, we are introducing premium flavors and packaging to complement Edible Arrangements® Mid-Autumn Daisies Collection. Available in selection of half a dozen (6 pcs) and a dozen (12 pcs) boxes, Mid-Autumn Daisies are presented with various toppings and gourmet chocolate options. Dark cocoa chocolate and a sweet white chocolate blend can be decorated with almonds or coconut for a premium experience of blending tastes. Mid-Autumn Daisies with Dark Chocolate and Coconut makes for the perfection selection of your gift to your dearest. Starting from HKD $368.
Apart from the traditional gift of serving mooncakes from a keepsake box, we are presenting an elegant selection of Mid-Autumn Festival arrangements. Our signature fresh fruit bouquets are topped with a center mooncake or mooncakes of your selection, creating a magnificent feast for Mid-Autumn Festival celebrations with your family and friends. Mid-Autumn Blissful Celebration, with delicious strawberries, melons, grapes and decorated with our signature Mid-Autumn Daisy and chocolate dipped bunny-shaped pineapples. Available in two sizes, starting from $828 HKD.
Whatever your gift choice, Edible Arrangements® Hong Kong delivers on the same day! Fruit Experts® at our stores in Central, Kowloon Tong and Kowloon Bay are more than happy to assist you in choosing the right arrangement for your occasion. Contact us at 2295 1108 (ifc mall) or 2673 3558 (Festival Walk) for further details. No time to call? You may also order online and have it delivered as well! Visit http://Edible.hk for over 100 fruity options and details!
Image
Mid-Autumn Daisies
http://release.media-outreach.com/i/Download/1900
Mid-Autumn Blissful Celebration & Mid-Autumn Blooming Daisies
http://release.media-outreach.com/i/Download/1901
Company Logo
http://release.media-outreach.com/i/Download/1471
Contact Information:
Contact:
Sara Tomovic

2358 0158

Yoyo Leung

2358 0158