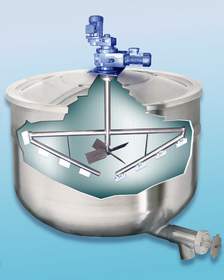 Sharpe Mixers' custom configured dual action and tandem mixers are ideally suited for applications where users have one tank and multiple mixing requirements.
SEATTLE, WA--(Marketwired - Jul 15, 2014) - Sharpe Mixers has introduced custom configured dual action and tandem mixers for applications where users have one tank and multiple mixing requirements.
Sharpe Dual Motion Mixers combine a high-shear or high-intensity mixer with a low-shear gentle acting agitator and can be custom configured for a wide range of applications involving one tank with multiple mixing requirements. A typical configuration designed to improve product uniformity includes a center mounted low speed anchor mixer or scrape anchor mixer which moves product into a mixing zone where a secondary agitator thoroughly blends.
Suited for numerous applications, Sharpe Dual Motion Mixers can utilize scrapers to assist in sweeping the side walls of a tank. A helix-auger configuration for high viscosity applications requiring low shear mixing is also available. Typical applications include manufacturing food products processed with gravy, sauces with thickeners, and chemical slurries.
Sharpe Dual Motion Mixers are priced according to configuration. Price quotations are available upon request.
About Sharpe Mixers
Founded in 1953 as The Burhans-Sharpe Company, a sales representative organization with equipment and engineering services for the chemical process and pulp and paper mills throughout Washington and Oregon, understanding end-user requirements is in Sharpe's DNA. After successfully engineering and providing specialized equipment and services in the areas of mixing, heat transfer, conveying, vacuum control, pumping, filtration, and other applications in the chemical engineering industry, the company formed a mixer manufacturing division in 1970.
Today, Sharpe Mixers manufactures a broad line of portable and stationary mixers, energy efficient hydrofoil blade impellers, and related equipment to service the chemical, fluid gas desulpherization, food and beverage, pharmaceutical and biotechnology, pulp and paper, and water and wastewater treatment industries. The company has earned its reputation for providing dependable mixers configured to match customer requirements and minimize maintenance downtime. Always looking towards the future, Sharpe Mixers continues to develop innovative mixing solutions.
Contact Information:
For more information contact:

Sharpe Mixers
Fred C. DeCicco
Sales Mgr.
P.O. Box 3906
Seattle, WA 98124
(800) 237-8815
FAX (800) 767-5670
e-mail: fdecicco@sharpemixers.com
www.sharpemixers.com