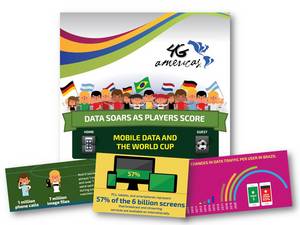 4G Americas Infographic - Data Soars as Players Score: Mobile Data and the World Cup
BELLEVUE, WA--(Marketwired - Jul 15, 2014) - Mobile connectivity has not only dramatically transformed the way we communicate; it has also given us the ability to keep track of up-to-the-minute news and updates on everything that's going on in the world -- take the World Cup for example. 4G Americas kicks off post World Cup fever with a brand new infographic, providing you with the 411 on how developments in mobile broadband and millions of investment dollars by Brazilian operators have significantly supported global viewership of this year's games. Check out key facts on how social media played a huge role, most recently proven by the 35.6 million tweets which were posted during the Brazil-Germany match -- a record breaking number which beat out this year's Super Bowl!
We encourage you to share our infographic, "Data Soars as Players Score: Mobile Data and World Cup", through your website, blog and various social media channels! Individual frames are available on request.
Click here to view the full infographic. To embed the infographic onto your website, copy the code found at the bottom of the webpage.
About 4G Americas: Unifying the Americas through Mobile Broadband Technology
4G Americas is an industry trade organization composed of leading telecommunications service providers and manufacturers. The organization's mission is to advocate for and foster the advancement and full capabilities of the 3GPP family of mobile broadband technologies, including LTE-Advanced, throughout the ecosystem's networks, services, applications and wirelessly connected devices in the Americas. 4G Americas contributes to the success of 3GPP technologies and their No. 1 place in the region. 4G Americas is headquartered in Bellevue, Wash. More information is available at www.4gamericas.org or www.twitter.com/4gamericas and www.facebook.com/4gamericas.
4G Americas' Board of Governors members include: Alcatel-Lucent, América Móvil, AT&T, Cable & Wireless, Cisco, CommScope, Entel, Ericsson, HP, Mavenir, Nokia, Openwave Mobility, Qualcomm, Rogers, Sprint, T-Mobile USA and Telefónica.