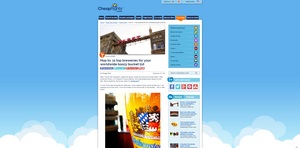 Cheapflights.com blogpost on 11 top breweries for your worldwide boozy bucket list! In honor of Oktoberfest.
BOSTON, MA--(Marketwired - Sep 24, 2014) - Ever thought of taking that weekend pub-crawl global? Well, there's no better occasion than Oktoberfest for celebrating both the act of drinking and the art of making great beer. This year, Cheapflights.com, the online leader in finding and publishing travel deals, invites you to map out your Oktoberfest festivities with these Top 11 Breweries for Your Worldwide Boozy Bucket List! Pay homage to your favorite hops in the smallest, weirdest, most remote and coldest breweries around the world. Where will your first beer stop be?
Here are five frothy breweries to start:
The largest brewery, The Golden Brewery, Colorado, United States - It's fitting that the world's largest single-site brewery should be in Golden, Colorado. Founded by Adolph Coors in 1873, the Golden site brews and packages 11 million barrels each year. Running almost year round, the self-guided tour includes a 30-minute stroll through malting, brewing and packaging processes and a visit to the "fresh beer room" where visitors (age 21 and older) can sample a cold beer while sitting on ice-cube benches in a refrigerated room.


The oldest brewery, Weihenstephan, Germany - It's only right to start our trip in Germany, the home of beer. It all began in a Bavarian monastery in the eighth century, when monks at Weihenstephan Abbey received tithes from a hop garden. A brewery was first licensed in 1040 -- the founding date of the modern brewery, now called the Bavarian State Brewery Weihenstephan. Crafting pale lagers and wheat beers, this brewery's strongest tipple is 10.5 percent alcohol by volume.


The weirdest brewery, Rogue Ales, Newport, Oregon, United States - Is that a hair in your pint? This Oregon brewery was certainly looking for something different when dreaming up a new flavor. The story goes that a lab technician, looking for a new source of yeast, swabbed an employee's beard for a laugh. Turns out the beard, being grown since the 1970s, had plenty of brew-able yeast, so they cultivated it and made a beer called Beard Beer. The ingredients are simple: water, barley, hops and beard yeast.


The westernmost brewery, Primo Brewing and Malting Company, Hawaii - Two breweries can be found on the island of Honolulu in Hawaii -- beating the Alaskan breweries by a pinch to win our westernmost brewery accolade. Self-described as "Hawaii's Original Beer," Primo Brewing and Malting Company was established in 1914, although the beer was first brewed in 1897. The company stopped trading during Prohibition, but started up again in 1947.


The holiest brewery, Guinness, Dublin, Ireland - Arguably one of the most famous pints in the world, Guinness only exists because of divine intervention by God (sort of). When Arthur Guinness's godfather, the Archbishop Rev. Arthur Price, died, he left young Arthur £100 (more than $160) in his will. So Arthur spent it on drink -- setting up his Guinness brewery in Leixlip, County Kildare. Three years later in 1759, he relocated to Dublin. The Guinness brewery is now Ireland's top tourist attraction. However, if you want a genuine religious experience at a brewery head to a Trappist abbey in Belgium, the Netherlands or Austria. A genuine Trappist beer must be made within the walls of the monastery either by the monks or under their supervision. The income generated covers their living expenses and the upkeep of the monastery.


Haven't got your beer fill quite yet? Check out these boozy breweries that round out our list: Paradise Beverages, Fiji; Austral, Patagonia, Chile; Viru Olu, Greenland; Bragdy Gwynant, Wales; and Easter Island. For the full Top 11 list of Breweries for Your Worldwide Boozy Bucket List, please visit: http://www.cheapflights.com/news/11-top-breweries-worldwide-boozy-bucket-list/.
About Cheapflights.com part of the Momondo Group
Momondo Group is an online travel media and technology company that is driven by the belief that an open world is a better world. The group now serves travel search and inspiration to over 17.5 million visitors a month -- plus 7 million travel newsletter subscribers -- via its Cheapflights (www.cheapflights.com) and momondo (www.momondo.com) brands.
Skygate began the sourcing of complex air-travel data in 1992, while Cheapflights pioneered the online comparison of flight deals for users in 1996 and momondo launched meta-search in the Nordic countries in 2006.
The Group has offices in London, Copenhagen, Boston and Toronto, with a consumer base across more than 25 core international markets but users all over the world.
Follow us on Twitter: twitter.com/cheapflights
Follow us on Facebook: www.facebook.com/cheapflights
Contact Information:
Contact Information:
Cheapflights.com
Sousie Weston
Tel: +1-416-618-2875
E-mail:
Website: www.cheapflights.com