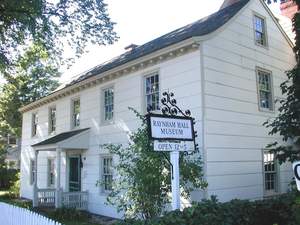 Raynham Hall is said to be haunted by British Major John Andre, hanged for conspiracy during the Revolutionary War. It is also believed that Sally Townsend, the owners' daughter who died of a broken heart (after receiving the nation's first Valentine), also haunts the house.
HAUPPAUGE, NY--(Marketwired - Oct 21, 2014) - From Native American legends to Revolutionary War intrigue, Long Island, NY has a storied history full of ghastly tales that have seemingly brought about supernatural occurrences. If you want some good, chilling fun, you'll find plenty of haunted places on Long Island that welcome visitors.
Ghost hunters and fans of the paranormal are invited to explore the island's haunts, including restaurants, theaters and even a ghostly lake. There's the story of the boy who was locked up in one of the houses at Old Bethpage Village, the Native American and soldier spirits that prowl Montauk, the Lady of the Lake at Lake Ronkonkoma, and more. The Long Island Convention and Visitors Bureau and Sports Commission has put together a list of the top haunted places on Long Island. As Halloween approaches, visitors are encouraged to scare up some fun at these haunted highlights.
In addition to these authentic spooky spots, families will find seasonal activities and attractions in the form of pumpkin patches and local fall festivals. Autumn is one of the more popular seasons among Long Island visitors, thanks to stunning fall foliage, temperate weather and a wealth of events and attractions. 
Vacation planning information is available at www.discoverlongisland.com.