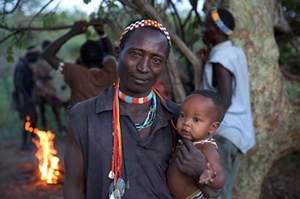 The Hadza people have lived sustainably on their land in Tanzania's Rift Valley for as long as 50,000 years. Now this survival is threatened.
SANTA MONICA, CA--(Marketwired - Oct 22, 2014) -
What: "The Hadza: Last of the First" Los Angeles Premiere
Where: The Broad Stage, 1310 11th Street, Santa Monica, Ca 90401
When: Thursday, October 23rd
Step and Repeat/Reception 6:30 p.m.
Screening: 7:30 p.m. with Q&A to follow
Media Avails: Director Bill Benenson 6:30 p.m.
ABOUT: The Hadza, East Africa's last remaining true hunter-gatherers and perhaps the original "indigenous people," have lived sustainably on their land near the Rift Valley birthplace of humanity for over 50,000 years. They have occupied one place probably longer than any other group on the planet, and their foraging lifestyle characterizes most of human history. Due to modern-day encroachments, the Hadza's land and way of life are currently under attack -- and a vital tie to our evolutionary roots may be lost forever. In addition to the remarkable Hadza themselves, the film features Jane Goodall, the late Wangari Maathai and a host of internationally renowned experts who outline how important the Hadza are in understanding our origins. Like other indigenous peoples around the globe, the Hadza now face grave land and human rights challenges to their way of life. The film is a call to action to establish a protective land corridor for the survival of the Hadza as a community. It is presented in association with The Nature Conservancy, which is working to conserve the homelands of Africa's Hadza tribe one of the world's last remaining hunter/gatherer groups. 
Alfre Woodard narrates; Lupita Nyong'o is the Swahili consultant and translator. www.thehadzalastofthefirst.com
Limited Engagement in Los Angeles: October 24-30 at Regent Theater 
1045 Broxton Ave, Westwood, CA 
Fri-Sun & Tues-Thurs: 3:45, 5:30, 7:15, 9:00p.m.; Mon: 12:45, 2:30, 4:15, 9:55p.m.
Contact Information:
Media Contacts:
Maggie Begley
MBC
Maggie@mbcprinc.com
310.749.4055

Amanda Payne
424.343.4522
hadzafilm@gmail.com