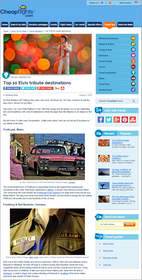 Cheapflights.com blog post on Top 10 Elvis Tribute Destinations in honor of the King of Rock and Roll's 80th birthday on January 8th.
BOSTON, MA--(Marketwired - Jan 6, 2015) - On January 8th, 1935, Elvis Aaron Presley was born in Tulepo, Mississippi. This Thursday will mark 80 years since the "King of Rock and Roll" entered this world. In honor of this music history milestone, the travel experts at Cheapflights.com, the online leader in finding and publishing travel deals, have compiled a Top 10 Elvis Tribute Destinations where the man, the music and the legend all live on.
Below are six of our picks for places where Elvis is "Always on our Minds":
Porthcawl, Wales - The small seaside town of Porthcawl is supposedly home to the largest Elvis impersonator convention in the world. Held every September in Wales, a country more famous for Elvis' friend Tom Jones than the man himself, the Porthcawl Elvis Festival is so large that it even has its own fringe festival. The king may never have been there himself, but that doesn't change the fact that visiting Porthcawl will enable you to see hundreds of him at once.


Friedberg & Bad Nauheim, Germany - Elvis was in the United States Army for two years from 1958 to 1960 and was stationed at Ray Barracks in Friedberg. He lived off base in a hotel in nearby Bad Nauheim where the many complaints about all his partying meant he had to move out into a house down the road. Today, both towns have a multitude of sites and nods to Elvis' military past.


Sun Studio, Memphis, United States - In 1953, when Elvis was 18, he went to record a single acetate disc of himself singing at Sun Studios as a gift for his mother. The receptionist made the note "Good ballad singer. Hold," but it wasn't until nearly a year later when Elvis broke out and began a string of hits. All his important early classics, like "That's All Right" were recorded under its roof, and the place reverberates with Elvis' legend. Tours include a chance to sing at the very microphone he used.


Hawaii, United States - Elvis did more to popularize the luau than any other big kahuna out there. Not only did he make three light-hearted films in Hawaii with suitably island-drenched soundtracks, but, in 1973, Elvis was the star of "Aloha from Hawaii," the world's first live concert broadcast via satellite. A statue of Elvis stands outside the Honolulu stadium where the performance was held. From the beaches where he filmed to the places he stayed to his efforts to raise funds for the Arizona Memorial in Pearl Harbor, you can find his influence throughout the islands. Yet another great reason to explore Hawaii!


Las Vegas, Nevada, United States - Elvis famously proclaimed 'Viva Las Vegas!' and the city still has an enduring connection with his words. There's a statue dedicated to Elvis outside the Westgate Las Vegas where he did two shows a night for two months a year for seven years back when it was the Las Vegas Hilton. There are lots of claims of people seeing his ghost there, so maybe even in the afterlife Elvis still thinks he's got all those gigs to do. Elsewhere, the king married Priscilla in the Aladdin Hotel, and there's the famous Graceland Wedding Chapel where Elvis impersonators perform the wedding rites in his holy honor.


Graceland, Memphis, United States - Graceland, the huge estate that he bought for himself and his family back in 1957, is synonymous with Elvis Presley. The 13.8-acre plot currently houses a museum, working stables, a recording studio and two jets (though the planes may be removed as they're up for auction). We also like that it has the TV he shot after watching something that annoyed him. Graceland is every fan's top Elvis destination, especially since it's where the big man died and is now buried -- alongside his parents and grandmother. Elvis' grave is the star attraction of Graceland's "Meditation Garden." For the anniversary of his death on August 16th each year, Graceland celebrates Elvis Week, which includes a procession of thousands of fans.


Rounding out the list of locales where Elvis made his mark are these U.S. cities: Los Angeles, California; Palm Springs, California; Tupelo, Mississippi; and Nashville, Tennessee. To read the details on these and Cheapflights.com's Top 10 Elvis Tribute Destinations, visit www.cheapflights.com/news/top-10-elvis-tribute-destinations.
About Cheapflights.com, part of the Momondo Group
Momondo Group is an online travel media and technology company that is driven by the belief that an open world is a better world. The group now serves travel search and inspiration to over 17.5 million visitors a month -- plus 7 million travel newsletter subscribers -- via its Cheapflights (www.cheapflights.com) and momondo (www.momondo.com) brands.
Skygate began the sourcing of complex air-travel data in 1992, while Cheapflights pioneered the online comparison of flight deals for users in 1996 and momondo launched meta-search in the Nordic countries in 2006.
The Group has offices in London, Copenhagen and Boston with a consumer base across more than 30 core international markets but users all over the world.
Follow us on Twitter: twitter.com/cheapflights
Follow us on Facebook: www.facebook.com/cheapflights
Contact Information:
Contact Information:
Cheapflights.com
Tel: +1 416-788-4573
E-mail:
Website: www.cheapflights.com