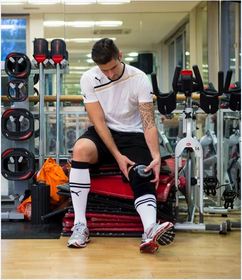 ''Olivier Giroud uses the HYPERICE ice compression knee wrap after a training session''
LOS ANGELES, CA--(Marketwired - Jan 13, 2015) - HYPERICE today announces that English Club Arsenal Striker, Olivier Giroud, has joined the company as a shareholder and global brand ambassador. The partnership aims to generate global awareness for the brand's advanced recovery, injury prevention, and movement enhancement products. Giroud is no stranger to injury recovery, having spent the second half of 2014 recovering from a broken leg he suffered in August. The professional soccer star credits HYPERICE as a major factor in his quick and successful recovery. Giroud believes HYPERICE technology will aid and improve performance for himself and his fellow athletes for years to come. 
This new partnership solidifies HYPERICE's brand reputation as one of the most trusted names in sports worldwide. The company's global mission is to lead and innovate the injury prevention, recovery and movement enhancement sector. HYPERICE continues to provide athletes with efficient and effective solutions for preventing injury, advancing performance, and promoting faster recovery through its innovative technologies.
Giroud began using HYPERICE's signature ice compression technology (ICT PRO) line while training for his second season with Arsenal. Convinced by the significant physical improvement from using the ice compression products while rehabilitating his broken leg, Giroud became inspired to further the company's mission. Giroud was one of the first European athletes to test the company's latest innovation, The VYPER, a cutting-edge high intensity vibrating fitness device, which relies on pressure and vibration to improve the body's overall performance. 
"The most important part of being a professional athlete is taking care of the body and making sure I'm doing everything I can to stay healthy and prevent myself from becoming injured," says Giroud. "As both an Arsenal Footballer and member of the French National Team, it's critical that I use the best and most innovative products be resilient after competition (and after injury). I firmly believe HYPERICE products are the best in their class. They have developed an innovative technology to help me and other pro-athletes stay on top of our game."
To find out more about HYPERICE, visit http://www.hyperice.com/.
Contact Information:
Media Contact
Christina Heflin
Uproar PR for HYPERICE
321-236-0102 x233