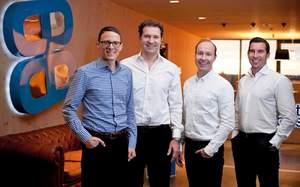 Jorg Mayer (21sportsgroup), Dr. Henner Schwarz (Planet Sports), Michael Burk (21sportsgroup) and Michael Rumerstorfer (Planet Sports). Photo: Stephan Daniel for 21sportsgroup. Royalty free usage for editorial purposes only.
MANNHEIM, GERMANY and MUNICH, GERMANY--(Marketwired - Jan 13, 2015) - 21sportsgroup continues to grow and is now one of Europe's leading multi-channel sports retailers. Together with a consortium of investors, the Mannheim-based company has acquired the leading Action Sports specialist retailer Planet Sports GmbH, which is being sold by Puccini Germany GmbH. This takeover will expand 21sportsgroup's client base to more than 2.2 million customers and grow its annual net sales to EUR 80 million.
The transaction will strengthen 21sportsgroup by incorporating the leading specialist in snow, ski, skate, surf and streetwear in the German action sports market. Munich's Planet Sports leadership is built on 20 years of experience, 12 stores in premium locations across Germany, and a successful ecommerce operation.
Through its online stores 21.run.com, 21cycles.com and 21streetwear.com, 21sportsgroup already serves more than 500,000 customers and is the online market leader in running and triathlon equipment. The company also runs two of its own specialist retail brands: L&S Lauf- & Sport Shop and Vertical Ride, a megastore at the logistic- & distribution center Mannheim which is known far beyond the region.
Disclaimer
This press release by 21sportsgroup, L&S Lauf- & Sport Shop GmbH, contains information about an M&A transaction which is still pending assessment and full compliance with the duties of both parties to the contract.
Please note:
A digital press photo, related to this press release, is available for download ...
Contact Information:
Your editorial contact:

21sportsgroup
L&S Lauf- & Sport Shop GmbH
Corporate Communications
Saarburger Ring 19-21
68229 Mannheim-Friedrichsfeld
Germany

Tel. +49 621 400700-30
Fax +49 621 400700-31
public.relations@21sportsgroup.com