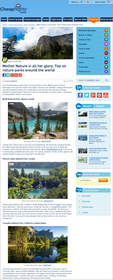 Cheapflights.com blog post on Mother Nature in all her glory: top 10 nature parks around the world. With Earth Day approaching on April 22, we suggest enjoying the outdoors at these national parks where every day is a celebration of Mother Earth.
BOSTON, MA--(Marketwired - Apr 15, 2015) - On Wednesday, April 22nd, over 1 billion people in over 190 countries will be participating in the 45th anniversary of Earth Day. This year, the travel experts at Cheapflights.com, the online leader in finding and publishing travel deals, celebrate Mother Nature in all her glory in their Top 10 Nature Parks around the World. These parks are all ideal destinations for reveling in the majesty of Mother Earth.
Enjoy the outdoors and reconnect with the beauty and serenity of nature at these five national parks around the world where every day is a celebration of the majesty of our planet:
Banff National Park, Alberta Canada - Canada's first national park is one of its most breathtaking. Set amidst the Canadian Rockies, the 2,564 square-mile park attracts millions of visitors each year who come to admire the mountain scenery and all of the other natural beauty offered. Banff National Park is also home to mesmerizing, emerald-hued Lake Louise, hot springs, hundreds of miles of trails, glaciers and enough activities to keep you coming back year after year.


Plitvice Lakes National Park, Croatia - Plitvice Lakes National Park, a UNESCO World Heritage Site, is one of Croatia's most popular tourist attractions -- with very good reason. Simply put, the park is unforgettably gorgeous. The park houses a network of 16 lakes interconnected by a series of waterfalls. The best way to explore the park is to walk or hike one of the many trails. There's also a shuttle bus that does one route around the park and, in the summer, a boat can take you from one end of the largest lake to the other. If you want to stay overnight, there are three hotels on site as well as a campground.


Yosemite National Park, California, United States - Yosemite National Park is a year round destination for nature lovers. Don't miss a visit to Yosemite Valley, where you'll find waterfalls, cliffs and unique rock formations, or the chance to see the Mariposa Grove of giant sequoia trees, the largest strand of giant sequoias (also known as Sierra redwoods) in Yosemite. The park is the perfect place for hiking, snowshoeing, birdwatching, camping, backpacking, swimming and even boating.


Torres del Paine National Park, Chile - Chile's Torres del Paine National Park is a world biosphere reserve that brims with amazing scenery. Glaciers, snow-capped mountains, lakes, forests and unique wildlife are just some of what makes this park so special and the ideal destination for avid trekkers. There are many hikes of varying lengths and difficulty as well as campground and lodges for overnight guests. Hotels can also be found in Torres del Paine for those interested in enjoying what the park has to offer without roughing it.


Canaima National Park, Venezuela - Located in southeastern Venezuela along the border between Guyana and Brazil, Canaima National Park is one of the largest national parks in the world and a UNESCO World Heritage Site. The park is known for its flat-topped mountain formations called "tepuis" as well as for Angel Falls, which is the highest waterfall in the world -- more than 15 times higher than Niagara Falls. Canaima National Park is also home to several species of endangered mammals including jaguars and ocelots, and it contains many plant species that aren't found anywhere else on earth.

The nature parks that round out our list of places around the world where Mother Nature's talents are on display are: Jiuzhaigou Valley National Park, China; Komodo National Park, Indonesia; Tulum National Park, Mexico; Iguazu National Park, Argentina/Brazil; and Sagarmatha National Park, Nepal. To read more on Mother Nature in all her glory: top 10 nature parks around the world, visit www.cheapflights.com/news/mother-nature-glory-top-10-nature-parks-around-world.
About Cheapflights.com, part of the Momondo Group
Momondo Group is an online travel media and technology company that is driven by the belief that an open world is a better world. The group now serves travel search and inspiration to over 17.5 million visitors a month -- plus 7 million travel newsletter subscribers -- via its Cheapflights (www.cheapflights.com) and momondo (www.momondo.com) brands.
Skygate began the sourcing of complex air-travel data in 1992, while Cheapflights pioneered the online comparison of flight deals for users in 1996 and momondo launched meta-search in the Nordic countries in 2006.
The Group has offices in London, Copenhagen and Boston with a consumer base across more than 30 core international markets but users all over the world.
Follow us on Twitter: twitter.com/cheapflights
Follow us on Facebook: www.facebook.com/cheapflights
Follow us on Instragram: instagram.com/cheapflights
Follow us on Pinterest: www.pinterest.com/cheapflights/
Contact Information:
Contact Information:
Cheapflights.com
Tel: +1 416-788-4573
E-mail:
Website: www.cheapflights.com