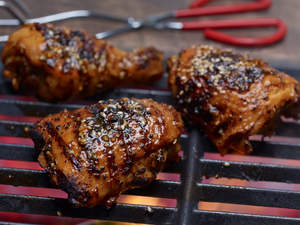 Sweet Soy Bourbon Chicken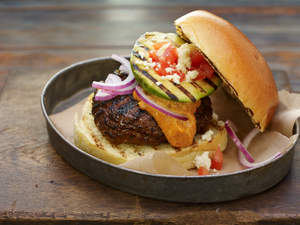 Southwestern Smoky Ranchero Burger with Grilled Avocado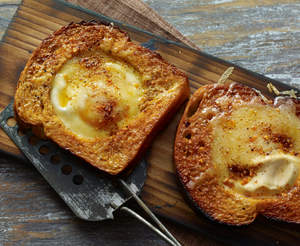 Cedar Plank Grilled Egg in Toast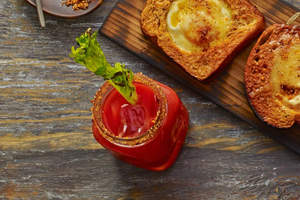 Bloody Mary with Applewood Bacon Grilling Salt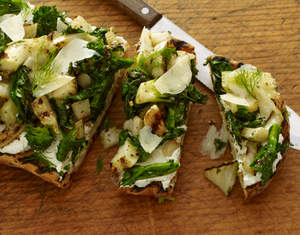 Grilled Vegetable Antipasto Bruschetta,
MISSION, KS--(Marketwired - Apr 20, 2015) - (Family Features) Grilling season is officially here. From juicy, perfectly cooked chicken to boss burgers, these five simple ideas will help deliver epic grilled flavors all season long.
1. Banish dry chicken from the grates - Use the reverse sear grilling method: start with low heat to evenly cook and create maximum juiciness, then turn up the flames for a quick, crispy char.
Recipe: Sweet Soy Bourbon Chicken
2. Go beyond basic burger toppings - Build a boss burger of epic proportions with unique toppers and condiments like tangy ranchero-infused mayo, mango slaw or grilled avocado.
Recipes: Vietnamese Banh Mi Burger with Sriracha Mayo, Caribbean Jerk Burger with Mango Slaw, Southwestern Smoky Ranchero Burger with Grilled Avocado
3. Bring brunch to the grill - Give eggs in toast some smoky flavor by grilling on a cedar plank and sprinkling with Grill Mates Applewood Rub seasoning.
Recipe: Cedar Plank Grilled Egg in Toast
4. Shake up classic salt and pepper - Create simple grilling salts with citrus peel, smoked spices and even bacon to add big flavor and texture to your beverages and outdoor meals before or after grilling.
Recipes: Bloody Mary with Applewood Bacon Grilling Salt, Applewood Bacon Grilling Salt, Mojito Lime Grilling Salt
5.  Upgrade veggies and dip - Put a twist on the old standby starters of veggies and dip or cheese and crackers. Grill vegetables and bread to create DIY shareable toasts with toppings like artichoke hearts and hummus or spicy broccoli rabe and fennel. 
Recipes: Grilled Vegetable Antipasto Bruschetta, Grilled Ciabatta with Spicy Broccoli Rabe & Fennel
For more grilling recipes and tips from the McCormick Grill Mates Flavor Forecast 2015: Grilling Edition, visit www.FlavorForecast.com.
About Family Features Editorial Syndicate
This and other food and lifestyle content can be found at http://www.editors.familyfeatures.com. Family Features is a leading provider of free food and lifestyle content for use in print and online publications. Register with no obligation to access a variety of formatted and unformatted features, accompanying photos, and automatically updating Web content solutions.
Contact Information:
Vickie Rocco
vrocco@familyfeatures.com
1-888-824-3337
http://editors.familyfeatures.com