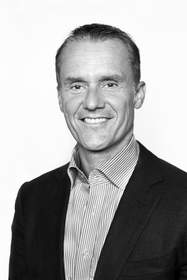 Titus Johnson, Vice President North America and Caribbean for Thomas Cook Group Airlines
CHICAGO, IL and FRANKFURT, GERMANY--(Marketwired - Apr 21, 2015) - Titus Johnson is appointed Vice President North America & Caribbean for Thomas Cook Group Airlines. In his new role, he is responsible for further developing the Thomas Cook Group Airlines revenues, brands and presence in the region.
"The Americas market is of great opportunity for Thomas Cook Group Airlines and its customers. With a growing network in the region and the Airlines ability to offer un-paralleled value, I am confident that more and more American consumers will choose Thomas Cook / Condor as their 'go to' Airlines for Europe", says Titus Johnson, Vice President North America & Caribbean.
Thomas Cook Group Airlines have been constantly expanding their destination portfolio in North America and are currently offering flights to Frankfurt and Manchester from 18 destinations within North America. The route network is expanding in summer 2015 with flights from Miami, New York, Portland (Oregon) and Providence to be launched in May and June 2015. Airlines such as Alaska Airlines, Sun Country, West Jet and Air North feed in from all over North America and European partners such as Lufthansa and the German Railway "Deutsche Bahn" offer a wide range of destinations within Europe.
Titus started his Aviation career in Australia with Australian Airlines in 1991 and later joined London City Airport marketing the Airport to both passengers and Airlines. In 1995, Titus joined Antwerp based VLM Airlines where he held a number of senior commercial roles and played an integral part in developing the carrier's expansion into the UK domestic and European regional market. He then joined Sabre as an Airline Director responsible for a number of carriers including British Airways. Titus Johnson joined Air Berlin in 2006 as their Country Manager for the UK and Ireland, and was promoted to Vice President Sales and Marketing Americas in 2012. Titus was born in London UK and holds an MSc in Air Transport Management from City University London.
Flights to Frankfurt or Manchester and beyond can be booked online on condor.com or via phone on 1-866-960-7915.
The Thomas Cook Group Airlines consist of four airlines: Thomas Cook Airlines UK, Thomas Cook Airlines Belgium, Thomas Cook Airlines Scandinavia and Condor Flugdienst. The airlines carry 16.9m passengers per year, generating revenues of £2.8bn. The combined fleet consists of 90 aircraft and is currently undergoing a fleet renewal program by integrating 25 brand new A321 and by modernizing the cabin interiors of the remaining aircraft of the fleet by mid-2016.
Contact Information:
Press contact:

Johannes Winter
Head of Corporate Communications Thomas Cook Group Airlines
Email: