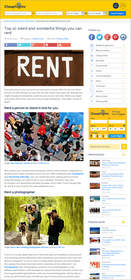 Cheapflights.ca blog post on Top 10 Weird and Wonderful Things You Can Rent. A dog, a person to stand in line for you, a friend, or an island? Not your typical vacation rentals, yet completely possible. These rentable items may throw you for a loop at first but may change how you vacation forever.
TORONTO, ON--(Marketwired - Jul 21, 2015) - A friend, a dog, a phone, a camera or even an island -- what do all of these things have in common? Believe it or not they can all be rented. Yes, you heard that correctly. When travelling, don't stop with renting a ride or a room. In today's sharing economy, the world is full of entrepreneurs who are at your service. The travel experts at Cheapflights.ca, the champions of simple travel search, have compiled a list of Top 10 Weird and Wonderful Things You Can Rent with items that are great space, time or money savers for your next vacation.
Below are five items from our list of weird and wonderful things that are changing forever what the term vacation rental means:
Rent a person to stand in line for you - Why waste your vacation time standing in line for show tickets, restaurants or anything else? Rent someone to do it for you. With companies like TaskRabbit and SameOleLineDudes, you can spend less time waiting and more time doing the things you want to do on your vacation. The price may vary by location, but SameOleLineDudes (located only in New York) charges $25 for the first hour and $10 for each additional hour.


Rent a photographer - A lot of us would agree that one of the best parts of travelling is showing off your amazing photos afterwards. But sometimes your pictures don't turn out like you imagined. Or you're not in a single photo because you were behind the camera the whole time (and aren't a devotee of the selfie stick). Let Flytographer help. Flytographer connects local photographers in 150 different destinations with travellers to capture the best moments of their trip. You're guaranteed great photos and your local photographer will be able to show you all the best (and, sometimes, least-known) picture-perfect spots.


Rent a friend - Does the idea of travelling solo not appeal to you? But none of your friends or family can travel when you can? Solve the problem by renting a friend. Rent a Friend allows you to hire a person to show you around a new town, teach you a new skill, introduce you to other people, go to a movie or restaurant with you and more. With a local by your side you'll feel more comfortable in an unfamiliar place and, perhaps, make new lifelong friends.


Rent driveways and parking spaces - Finding a place to park can be a pain, especially if you are in a tourist-filled area. JustPark solves that problem by pairing up homeowners who aren't using their driveways with people in need of a parking space. Whether you want a spot for a day or a week, it can be yours for less than what you'd pay a meter for the same amount of time.


Rent a dog - Although going on a trip is a lot of fun, too much time away from your furry friend may leave you feeling a bit deprived of puppy love. Fix that by renting a dog for the day. Walkzee (in beta test) allows you to search the area you are in for shelter dogs who need some human time. You can also contact local shelters on your own to see if they have any dog walking programs that allow outside visitors to walk their shelter dogs. Borrow My Doggy and Part time Pooch also allow you some puppy time while the dogs' owners are at work or out of town themselves.


A phone; camping gear; a designer handbag; an island; and a camera are five more unusual yet rentable items you could lease for your next vacation. To read the full details, visit www.cheapflights.ca/news/top-10-weird-and-wonderful-things-you-can-rent.
About Cheapflights.ca, part of the Momondo Group
Momondo Group is an online travel media and technology company that is driven by the belief that an open world is a better world. The group now serves travel search and inspiration to over 17.5 million visitors a month -- plus 8 million travel newsletter subscribers -- via its Cheapflights (www.cheapflights.ca) and momondo (www.momondo.com) brands.
Skygate began the sourcing of complex air-travel data in 1992, while Cheapflights pioneered the online comparison of flight deals for users in 1996 and momondo launched meta-search in the Nordic countries in 2006.
The Group has offices in London, Copenhagen and Boston with a consumer base across more than 30 core international markets but users all over the world.
Follow us on:
Twitter: twitter.com/cheapflights
Facebook: facebook.com/cheapflights
Instagram: instagram.com/cheapflights
Pinterest: pinterest.com/cheapflights
Contact Information:
Contact Information:
Cheapflights.ca
Tel: +1 416-788-4573
E-mail:
Website: www.cheapflights.ca