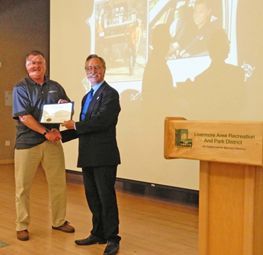 Livermore, CA Mayor John Marchand recognizes Don Morgan, Operations Director for RK Group, Inc.
FREMONT, CA--(Marketwired - Jul 28, 2015) - The Mayor of Livermore, California, John Marchand, recently held a breakfast to honor the businesses keeping the Livermore economy and community strong and growing, by providing vital employment opportunities and services for residents.
RK Group, Inc. is proud to be included among Top Business honorees by City of Livermore.
A third party logistics (3PL) provider, RK Group provides logistics services for the manufacturing operations of some of world's most respected high tech, medical device, semiconductor and automotive companies. Services range from daily pickup and delivery of components, materials and product to and from campuses throughout Silicon Valley, to airport recovery of parts inbound from Asia and clean-room unpack and repack, to flex labor services for kitting, sequencing and testing, either in dedicated or multi-client facilities to ensure optimal handling to spec. 
About RK Group, Inc.
Founded in 1983, RK Group provides manufacturing logistics services customized for Silicon Valley's iconic high tech manufacturing companies, as well as spare parts and finished goods distribution for high tech companies, medical device, consumer goods leaders, innovators and start-ups for which the San Francisco Bay Area and Northern California community are known. For more, go to www.rklogisticsgroup.com. 
Contact Information:
Contact:
Michele Carroll
925.980.1767