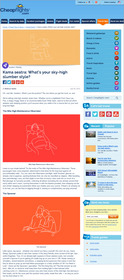 Cheapflights.com blog post featuring its Kama Seatra Guide, a look at 11 airplane seat sleeping positions. Are you a mile high-maintenance hibernator? A spooner? A straight jacket? To find out more about your sky-high slumber style or to learn about another position (or two) that may help you get lucky in the snooze department at 30,000 feet, read on for the details -- and illustrations.
BOSTON, MA--(Marketwired - Jul 29, 2015) - Marilyn Monroe, actress, model, sex symbol and early jetsetter, once said, "The nicest thing for me is sleep, then at least I can dream." The question is how lucky she got when it came to dreaming on an airplane. For some, dozing off while at 30,000 feet may come easily. Others have difficulty finding their perfect position. For those in search of better snoozing satisfaction in the air, the travel experts at Cheapflights.com offer a new essential guide, Kama Seatra: What's your sky-high slumber style? 11 airplane seat sleeping positions. From the Mile High-Maintenance Hibernator to the romantic Spooner to the ever-so Lucky Lounger, this guide, along with illustrations, will assist you in learning about new positions that may help you get lucky, in the, er, sleep department, on your next flight.
Below are six of the eleven Kama Seatra positions featured in this guide. Perhaps one will become your new favorite position:
The Mile High-Maintenance Hibernator - Leave no eye shade behind! 'Tis the motto of The Mile High-Maintenance Hibernator. These passengers have come prepared, determined to bed down for the long haul against all (uncomfortable) odds. You can catch the Hibernators pre-flight: teeth brushed, glasses on, already clad in pajamas, sporting footwear that can only be classified as slippers. After boarding, they painstakingly carry out their plight to turn their economy class seat into as much of a Barcalounger as humanly possible, collecting all pillows (including the one already around their neck) within arm's reach, tucking themselves in with the blanket provided, then whipping out the rest of their sleeping accoutrements (think eye shades and cozy socks). If there's an amenity kit to be had, you can bet they're digging through it, leaving no complimentary ear plug unturned.


The Spooner - Little spoon, big spoon...whatever size utensil you fancy yourself, this one's for you, lovers. Sleepy Spooners prefer to take their siestas in the (very) friendly skies locked at the lips, hips and/or fingertips. True, it's an already-tight squeeze in those airplane seats, but consider yourself a Spooner if you're getting all cuddle bug up on your love in 12B. Heads resting on shoulders, shared blankets and pillows, a sleeping facial expression that makes it look like they're about to jump up and lead fellow passengers in a lively rendition of "All You Need is Love"...these are the Spooners' specialties. The first thing they do? Flip that armrest up and back. After all, no obstacle shall keep them from holding tight to their beloved while catching some z's. Adventurous amores may even have visions of the mile-high club dancing in their heads, but for the most part this position looks pretty sweet from afar -- as long as you're not the third wheel in 12C.


The Fetal Position - The petite get lucky when it comes to conking out at 37,000 feet: They're small enough (and/or pliable enough) to somewhat-comfortably curl up -- legs and all -- even in cramped economy-class conditions. Reserved only for the unusually limber, the Fetal Position is largely assumed by travelers who, let's face it, could reasonably get some rest by bending themselves into just about any position (making the rest of us feel insanely inadequate in the airplane sleeping sack). Fetal Positions tend to pick window seats, tuck themselves into tiny balls and cozy up to the cabin wall, coming just short of contortionist status (especially in contrast to all the Getting Leggy With Its out there who don't fool around when it comes to stretching out). For Fetal Positions, this flying land-of-challenging-snoozing conditions is their land of opportunity. Flight attendants may as well tack an addendum onto their safety demo for these uber-flexible flyers: "Welcome aboard. Go forth, pick your preferred sleeping position, and cut all the z's while the rest of us look on in jealousy."


Hit the Tr-hay - When these jetsetters want to hit the hay, they hit the tray (table). Where fellow passengers see nothing more than a surface for balancing food and laptops, Hit the Tr-hays see glorious plastic pillows. These resourceful resters march aboard their flight, flip down that tray table, sometimes scrounge any semi-soft items nearby and voila: a (not-quite-so-perfect) place to rest their weary heads. After all, unconventional slumbering conditions require a little creativity, and Hit the Tr-hays are just inventive enough to bring it. Hit the Tr-hays may miss out on most airplane meals, but when you're on a magical flying machine that has served up a ready-made pillow for breakfast, lunch and dinner, why not fill up on an in-flight snooze fest?


The Eyes Wide Open - Long-haul flights are a different kind of slumber party for The Eyes Wide Open-ers of the world -- the kind made of movie marathons. That's not to say these in-flight insomniacs haven't made a valiant effort to snooze sandwiched among armrests, scratchy cushions and strangers. Flight after flight, they've tossed and turned in sheer desperation, moving from Hit the Tr-hay to a modified Fetal Position and back again, but no Ostrich Pillow (or stiff drink) has landed them a little shut-eye. And so, wide awake with no sign of the sandman, they've resigned themselves to a sleepless life laced with envy, internal debates around when to straddle the person in the aisle seat on the way to the lavatory and a series of needy love affairs with any free and easy in-flight entertainment system.


The Straight Jacket - Arms crossed, knees bent, feet on the floor: This is the ultimate upright and locked position. Straight Jackets are those oh-so-fortunate flyers who can nod off sitting straight up -- sometimes before the plane even takes off -- as all the Eyes Wide Open-ers look on in sleepless disbelief. These adept dozers may seem superhuman (and even a bit smug) perched on their cushion-cum-floatation-device thrones wearing a naptime look that says: "Reclined seats and neck pillows are for the weak." A Straight Jacket can be hard to spot as they aren't spending all their in-flight time trying to contort themselves into some semblance of horizontal, but you'll catch them looking almost rested as they emerge from red eye after red eye, having counted sheep while the rest of us were counting down the hours.


Looking for more positions to try? Here are the five that round out the guide: The Reverse Passenger; Hoggy Style; The Lucky Lounger; First Class Lay...Flat; and Getting Leggy With It. To see the full Kama Seatra guide, along with illustrations, visit www.cheapflights.com/news/kama-seatra-whats-your-sky-high-slumber-style. Sweet dreams!
About Cheapflights.com, part of the Momondo Group
Momondo Group is an online travel media and technology company that is driven by the belief that an open world is a better world. The group now serves travel search and inspiration to over 17.5 million visitors a month -- plus 8 million travel newsletter subscribers -- via its Cheapflights (www.cheapflights.com) and momondo (www.momondo.com) brands. Skygate began the sourcing of complex air-travel data in 1992, while Cheapflights pioneered the online comparison of flight deals for users in 1996 and momondo launched meta-search in the Nordic countries in 2006. The Group has offices in London, Copenhagen and Boston with a consumer base across more than 30 core international markets but users all over the world.
Follow us on:
Twitter: twitter.com/cheapflights
Facebook: facebook.com/cheapflights
Instagram: instagram.com/cheapflights
Pinterest: pinterest.com/cheapflights
Contact Information:
Contact Information:
Cheapflights.com
Tel: +1 416-788-4573
E-mail:
Website: www.cheapflights.com