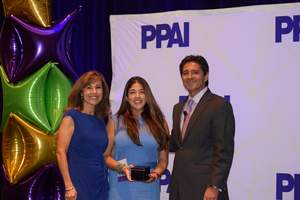 PPAI's Tina Filipski, left, and Paul Bellantone, right, present Sasha Pirrie as a 2015 PPB Rising Star.
TUSTIN, CA--(Marketwired - Aug 24, 2015) - Industry-leading promotional product supplier, Logomark is pleased to announce that Sasha Pirrie, Vice President of Sales - Western Division, has been named a 2015 Rising Star by PPB magazine.
Now in its sixth year, PPB magazine's most coveted honor recognizes the industry's budding leaders through peer-nominations and chooses select individuals based on their achievements within their companies, industry and community, and their demonstrated potential and leadership ability. The 2015 Rising Stars were recognized at a reception and dinner honoring the 10 outstanding young leaders from companies across the industry on Sunday, Aug. 9, at the Omni Nashville hotel in Nashville, Tennessee. The dinner marked the opening the PPAI North American Leadership Conference.
"Sasha exemplifies all the qualities for which this award was designed and more," says Logomark CEO Trevor Gnesin. "Sasha is creative, highly experienced in the promotional products industry and takes on challenges with finesse. She is a true leader and inspiration to our team."
Pirrie, who oversees five territories for Logomark, has been in the promotional products industry for more than 15 years. She is a past board member of the regional Specialty Advertising Association of California (SAAC) and served as its treasurer in 2013.
For more information regarding media opportunities, call Alex Farrar at 949-733-8679 ext. 109 or email alex@beyondfifteen.com.
ABOUT LOGOMARK: Founded in 1993, Logomark is a premier supplier of personalized gift and promotional products for the North American and global advertising specialty market. The company is a certified member of the Quality Certification Alliance, ensuring standards that deliver the highest levels of product safety. Providing more than 3,000 top-quality products in diverse categories, Logomark persistently reinvents the promotional products industry exceptional product selections, innovative solutions and unequaled customer support. Logomark features a complete line of products, an easy-to-use mobile app, an award-winning website and is ranked 8th in product searches on the industry's leading search platform. For more information on the company's broad line of quality promotional products, please call 800-789-4438 or visit www.logomark.com.