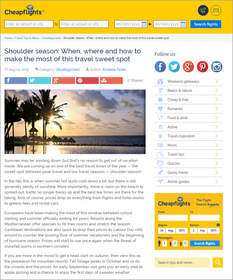 Cheapflights.ca blog post on Shoulder Season: When, Where and How to Make the Most of this Travel Sweet Spot, featuring advice and tips on how to get the most from this wonderful time of year that ushers in lower prices and more availability on everything from airfares to hotels to green fees paired with the joys of fewer lines and crowds.
TORONTO, ON--(Marketwired - Aug 26, 2015) - While the official first day of fall is almost a month away, Labour Day and the unofficial end of summer are coming up fast. But who says the end of summer has to mean the end of vacation time? In fact, the travel experts at Cheapflights.ca, the champions of simple travel search, are here to remind you that shoulder season is one of the best times to travel. Get ready to stretch your summer and your travel budget with our tips and advice on When, Where and How to Make the Most of this Travel Sweet Spot.
Lower prices on flights and hotels, more availability, fewer lines, no traffic -- all good reasons to consider travelling during this sweet spot between the peak travel and low travel seasons. Here are some tips from Cheapflights.ca on how to take advantage of this special travel time along with some ideas on where to go:
Get a handle on when the school year starts where you live. That is when the flood of vacationers evaporates. (Keep in mind there is usually a major burst of vacation travel in the week or two before school starts to fill the post summer camp gap.)
Also, make sure to check into the school schedule where you are headed. In Florida, many kids head back to school in mid-August, leaving the beaches open midweek while summer is still in full swing in many places. Thinking of a European adventure? Know, for example, that the school year starts later in Spain than it does in the U.K., so tourist spots will empty earlier than local beaches and cities. But also be aware of "half term", when U.K. students get a week break in early to mid-October.
Be a news and weather watcher. Everything from currency fluctuations to weather patterns can shape the popularity (and price) of a destination. And, if you are considering a trip to a storm-prone locale, think about investing some of the savings from the seasonal discount into trip insurance. Or be ready to switch dates -- something most airlines allow when there are major weather issues. (You will need to read the fine print when booking your hotel stay.)
Consider last-minute deals. Between-season lulls are when airlines, hotels and package travel companies are apt to offer sudden discounts and sales rather than have an inventory of unfilled seats and rooms.


Need some ideas on where to go this shoulder season? Cheapflights.ca suggests Canadians check out these five destinations that are prime right now for Canadians: Banff, Alberta, Canada; The Algarve, Portugal; Cancun, Mexico; Cuba; and Rio de Janeiro, Brazil. To read all the details on these shoulder season hot spots and more on When, Where and How to Make the Most of this Travel Sweet Spot visit, www.cheapflights.ca/news/shoulder-season-when-where-and-how-to-make-the-most-of-this-travel-sweet-spot.
About Cheapflights.ca, part of the Momondo Group
Momondo Group is an online travel media and technology company that is driven by the belief that an open world is a better world. The group now serves travel search and inspiration to over 17.5 million visitors a month - plus 8 million travel newsletter subscribers -- via its Cheapflights (www.cheapflights.ca) and momondo (www.momondo.com) brands.
Skygate began the sourcing of complex air-travel data in 1992, while Cheapflights pioneered the online comparison of flight deals for users in 1996 and momondo launched meta-search in the Nordic countries in 2006.
The Group has offices in London, Copenhagen and Boston with a consumer base across more than 30 core international markets but users all over the world.
Follow us on:
Twitter: twitter.com/cheapflights
Facebook: facebook.com/cheapflights
Instagram: instagram.com/cheapflights
Pinterest: pinterest.com/cheapflights
Contact Information:
Contact Information:
Cheapflights.ca
Tel: +1 416-788-4573
E-mail:
Website: www.cheapflights.ca