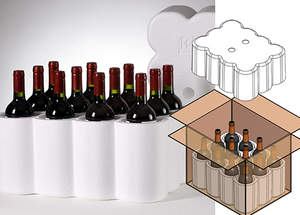 ACH Foam Technologies' universal wine shippers provide increased protection and temperature control.
DENVER, CO--(Marketwired - Sep 1, 2015) -  There are many aspects of producing wine that require near-constant attention to achieve the product consistency wineries and consumers desire from first sip to last. From the quality of the soil and grapes during the growing season, to the fermentation, bottling, and labeling processes, top-quality producers leave little to chance. Now, thanks to recent packaging improvements made by ACH Foam Technologies, that high-end product consistency is easily extended beyond the vineyard, through the distribution process and right to the retailer or consumer's front door.
ACH Foam Technologies newly-designed universal wine shipper secures up to 12 bottles with an innovative tightening system that minimizes movement during the shipping process. The new packaging combines improved bottom cushioning with robust chamfered edges and increased wall thickness to provide customers with a sturdy protective packaging system. The new wine shippers have passed the ISTA's 3A drop test, which measures the product's ability to sustain a variety of simulated drops consistent with typical package transport and handling.
Manufactured from expanded polystyrene (EPS), from an environmental perspective these rigid foam wine shippers compare favorably against the molded pulp packaging solutions that are most commonly used. While both EPS and molded pulp packaging are recyclable, in a continual process of use and reuse, over time the fibers used to create molded pulp products eventually become too short to be reused, while EPS can be recycled as long as the product is returned to the manufacturing stream. Studies have also shown that that pulp and paper manufacturers are the fourth largest industrial emitters of greenhouse gas; the third largest users of industrial water; and fourth among U.S. manufacturing industries in the release of dioxin and dioxin-like compounds. Also important to note related to molded pulp is the product consistency compared to EPS foam. While the molded pulp fibers get shorter each time the material is recycled the tensile strength of the fibers decreases making the packaging less effective for product protection purposes.
In addition to ACH Foam Technologies' universal standup wine shippers, the company also manufactures summer standup wine shippers, specifically designed to keep wine at a constant temperature for approximately 72 hours, increasing product reliability during the hotter summer months. Tested to meet ISTA 7E temperature standards, the EPS units are contained within an outer corrugated box that utilizes specially designed pockets that hold frozen gel refrigerants that allow internal airflow to support a constant temperature during shipping. Both types of shippers -- universal and summer standup -- are available in 2, 6, and 12 bottle kitted systems that include the foam base and lid, and corrugated box.
ACH Foam Technologies will be an exhibitor at PackExpo at the Las Vegas Convention Center, September 28 - 30 and will have display samples and technical experts on the new wine shippers on hand. ACH Foam Technologies will be in both S-6527 in the South Lower Hall.