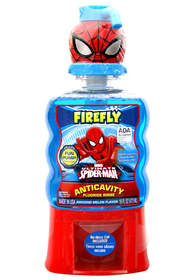 The New Firefly Spider-Man Fun Pump Rinse Helps Kids Fight Cavities Like a Super Hero
BUENA PARK, CA--(Marketwired - Sep 16, 2015) - Firefly is proudly expanding its character line with the launch of the new Spider-Man Fun Pump Rinse. By offering more character variety, Firefly ensures that parents and children can choose from a wide range of options when selecting the ultimate dental duo to battle cavities and prevent tooth decay. Firefly® is the leader in children's oral care solutions, and is committed to helping parents fight the daily brush battle by providing quality products and Good. Clean. Fun. 
A recent Kelton Global survey shows that 64 percent of American moms are looking for effective ways to make oral health care routines more fun for their child in order to ensure a clean and healthy smile. Parents have found that allowing their child to pick out his or her own toothbrush is a great way to make them brush their teeth every morning and night. Firefly products are available in a wide range of popular characters including Spider-Man, Barbie, Hello Kitty, Star Wars and many others. Providing different character options is a wonderful way to encourage kids to create a healthy daily routine and teach kids independence. 
The new Firefly Spider-Man Fun Pump Rinse helps kids fight cavities and establish a healthy morning and bedtime routine while keeping their smiles bright. Approved by the ADA (American Dental Association), the new rinse is equipped with fun pump technology featuring the Spider-Man character, which allows children to easily dispense the perfect amount of rinse without splattering it around the sink every single time. A no-mess cup is conveniently stored within the rinse ensuring counter clutter is kept to a minimum and parents don't have to worry about a messy sink.
The Firefly Spider-Man Fun Pump Rinse is sugar-free, alcohol free and boasts an amazing bright blue melon flavor that kids absolutely love! The delicious flavor, themed coloring of the rinse and bottle as well as the prominent character head will inspire kids to use the rinse on a regular basis. The flagship Firefly Ready Go Toothbrush is also available in the Spider-Man character so kids can have a matching set!
For more information about Firefly visit fireflytoothbrush.com. Join the conversation on Facebook, Twitter and Instagram and share what character your kids love the most!
About Firefly®
Firefly® is part of Dr. Fresh, LLC, one of the fastest growing oral care companies in the U.S. The brand prides itself on communicating with kids and families to help bring quality affordable products that promote healthy habits that last a lifetime. Innovation in new product development is the foundation of the company and the reason behind its steady growth and success.