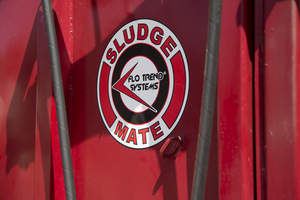 Flo Trend Systems has introduced new financing options around equipment such as its Sludge Mate bin.
HOUSTON, TX--(Marketwired - Sep 28, 2015) - Flo Trend Systems has introduced lease, rental and purchase (LRP) financing plans providing flexible financing options for equipment, installation and maintenance for both commercial and municipal customers.
The plans reduce or eliminate upfront costs and budget restrictions currently preventing commercial providers and municipalities from serving their clients and constituents. Financing of up to 100 percent of the purchase price of specified equipment at interest rates as low as zero percent is now available to commercial customers. Municipalities can also qualify for discounted interest rates.
"The LRP financing plans give our customers new options," said Flo Trend Marketing Coordinator Michael Self. "By providing 100 percent financing, we're enabling growing businesses to purchase the equipment they need to serve their customers. And the financing options we're offering municipalities mean residents in newly developed neighborhoods will no longer have to wait years for infrastructure development."
The new programs provide financing options from one to five years in length and give buyers the option to add Flo Trend equipment to their contract throughout its life. Financing allows both municipalities and commercial providers to create fixed monthly payment structures making expenses predictable and payments convenient.
Lyndsey Brunner of Steve's Septic Service in McKinleyville, Calif. found the new financing options to be a good fit.
"We've done business with Flo Trend for years and it's always been hassle-free. Our most recent transaction was the same. We were able to use the lease option for a 40-yard Sludge Mate® bin and a Poly-Mate® polymer mixing unit. I'm very satisfied from both the business and service perspectives."
To learn more about Flo Trend's financing options, contact Michael Self at mself@flotrend.com.