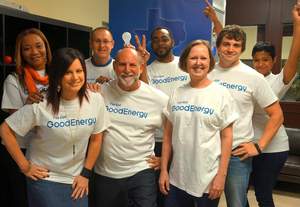 Members of the Team Good Energy who will participate in the 33rd Annual Komen Dallas Race for Cure this Saturday, to help raise funds and promote breast cancer awareness.
DALLAS, TX--(Marketwired - Oct 14, 2015) - Good Energy, a national consultant of commercial and residential energy savings solutions, today announced the company has become a proud sponsor of the 33rd Annual Komen Dallas Race for Cure®. In addition, 20 company employees formed Team Good Energy to raise funds and promote breast cancer awareness.
The Susan G. Komen Race for the Cure series is the world's largest and most successful education and fundraising event for breast cancer. The event celebrates breast cancer survivorship and honors those who have lost their battle with the disease. Team Good Energy will be participating in the race on Saturday, October 17th. 
Tweet this:  
Stop by @GoodEnergyUS Booth this Sat @KomenDallas race for giveaways & tips on saving $$ on your #utility bills. http://goodenergy.com/
.@GoodEnergyUS is proud corporate sponsor @KomenDallas race on Oct 17. Drop by our booth, cheer for Team Good Energy http://goodenergy.com/
"The 2015 Susan G. Komen Dallas Race for the Cure speaks to the heart of our company's greater mission of making a positive change and a lasting impact in the communities we serve," said Scott Heath, Managing Partner, Good Energy. "We are extremely proud of Team Good Energy for helping raise thousands of dollars for breast cancer awareness!"
Drop by the Good Energy Booth this Saturday to learn how you can benefit from Good Energy's proven savings strategies. For further information call 972-200-9776, visit www.goodenergy.com, or e-mail info@goodenergy.com.
About Good Energy
For more than two decades, Good Energy has been a national leader in structuring and implementing cost cutting energy savings programs. Good Energy now represents thousands of commercial and industrial customers and serves more communities and residential customers than any other single energy consultant in the nation. Good Energy supplies the latest efficiency applications to the market and has pioneered a proprietary buying approach that has achieved hundreds of millions of dollars in savings to the households and businesses throughout the nation. Good Energy delivers a variety of regional services involving local laws such as Benchmarking, Demand Response, Sustainability Solutions, Retro Commissioning, Predominant Use Studies, and Energy Tax assessments. Learn more about Good Energy at www.goodenergy.com and follow us on twitter @GoodEnergyUS.
Contact Information:
For more information, contact:
Jackie Abramian
BridgeView Marketing (for Good Energy, Inc.)
603-570-7533
Jackie@bridgeviewmarketing.com
Twitter: @GoodEnergyUS