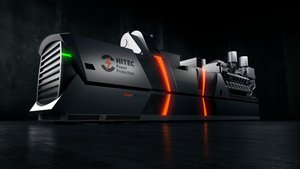 HITEC Power Protection will showcase its newly launched Power PRO series at Datacenter Dynamics Converged on November 10, in Toronto, Canada (Booth #26).
HITEC Power PRO is the new standard for continuous power.
ROSENBERG, TX--(Marketwired - Nov 3, 2015) - HITEC Power Protection, the inventor of Dynamic UPS, today announced the first official Power PRO series showcase at Datacenter Dynamics Converged, November 10 in Toronto, Canada (Booth #26). HITEC's recently announced solution represents the industry's most efficient UPS option for critical-power loads exceeding 1.5 MVA.
Tweet this: Experience the most efficient UPS #power solution from HITEC Power Protection http://bit.ly/1M02bZW @dcdconverged #Canada Booth 26 #cloud
From "mud to cloud," Datacenter Dynamics Converged Canada will cover the full ecosystem of how enterprise data centers are being redefined and how the economics of digital business, IT, and data center service delivery is reshaped in Canada and around the world. HITEC Power PRO series is a perfect fit for the event, offering data center operators the best power infrastructure option with the highest reliability, delivering the new standard for continuous power with:
Lowest possible TCO
Greatest reliability and uptime
Highest available system efficiency
Unrivalled monitoring and reporting
Rapid and straightforward installation
Intuitive control and operation
Compact footprint, highest power density
A sustainable and battery-free solution


"We have placed over half a century of UPS experience into developing the Power PRO series," said Ranjan Misra, President of HITEC Power Protection North America. "We are excited to be sharing our new innovation -- for the first time -- with Datacenter Dynamics Converged attendees."
To learn how you can take advantage of HITEC Power PRO series, visit HITEC at Booth #26 or schedule an appointment for a free TCO and power analysis by contacting (800) 794-9398 or emailing: smart.simple.reliable@hitec-ups.com
About HITEC Power Protection
HITEC Power Protection is the world leader in dynamic continuous power solutions with over 1600 UPS systems installed globally. Headquartered in The Netherlands, HITEC delivers world-class turnkey rotary UPS systems that are designed to fit local market requirements and are installed throughout the world. HITEC guarantees worldwide customer service support through an integrated network of highly qualified service engineers backed-up by its Regional Support Centers and 24x7x365 Global Helpdesk. For more information, please visit http://www.thenew-hitec.com/.
Contact Information:
For more information, contact:
Jackie Abramian
BridgeView Marketing (for HITEC Power Protection)
603-570-7533
Jackie@bridgeviewmarketing.com