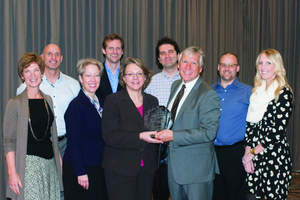 O Bee Credit Union has been named 2015 Business Philanthropy Award Winner by South Sound Partners for Philanthropy. Back row (left to right): O Bee Credit Union, Dave Echtle, Jason Tucker, Daniel Hildreth, and Devin Cadigan. Front row (left to right): Martha Guilfoyle, Melanie Ransom, Deborah Vinsel (President South Sound Partners for Philanthropy), Lee Wojnar, and Ashley Drennon.
TUMWATER, WA--(Marketwired - Nov 10, 2015) - O Bee Credit Union was named 2015 Business of the Year by South Sound Partners for Philanthropy at their Fifteenth Annual Leadership in Philanthropy Awards held on November 6th at the Red Lion Hotel. "We are celebrating O Bee's many contributions to the South Sound community through their time, talent, and resources," said Deborah S. Vinsel, President, South Sound Partners for Philanthropy. "Credit Unions are a cooperative movement and being part of that means looking beyond our walls to the larger community," said Lee Wojnar, VP of Marketing at O Bee Credit Union. "This philosophy leads us to support worthwhile charitable and social causes," he added.
Some of the local organizations and events that O Bee Credit Union sponsors include: Olympia Tumwater Foundation, the United Way of Thurston County, Tumwater Farmer's Market, the YWCA of Olympia, South Sound YMCA, Boys & Girls Clubs of Thurston County, Wolf Haven International, Habitat for Humanity, Tumwater Artesian Festival, Tenino Farmer's Market, Tenino Food Bank, Dispute Resolution Center, Tumwater Education Foundation, Wrinkles of Washington, Tumwater Parks & Recreation, Tenino Thurston County Asset Building Coalition, and Entertainment Explosion/A Really Big Shoe and many other local school, Rotary and community programs.
Founded in the year 2000, South Sound Partners for Philanthropy (South Sound Partners) is a consortium of more than 40 South Sound non-profit organizations dedicated to the promotion of philanthropic efforts in Thurston, Mason, Lewis, Grays Harbor, and Pacific Counties. The goal of the group is to work collaboratively to increase the awareness of local needs and the vital role that giving locally plays in the success and health of our community.
About O Bee Credit Union
O Bee Credit Union (The Olympia Brewing Co. Employees and Families Credit Union) was started February 15, 1955, by Ted McGill, who worked in the bottle house of the brewery, and recently celebrated its 60th anniversary. This full service not for profit credit union, owned by its members, has five branches located in Lacey, Tumwater, Tenino, Yelm, and West Olympia. Membership is open to all Washington residents. Visit www.obee.com for more information about O Bee Credit Union.
Contact Information:
Contact:
Martha Guilfoyle
O Bee Credit Union
Phone: (360) 943-0740