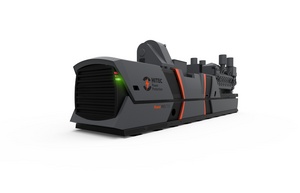 HITEC Power PRO series will be showcased at 7x24 Exchange Fall Conference, November 15-18, in San Antonio, Texas.
HITEC Power PRO series is the new standard for continuous power.
ROSENBERG, TX--(Marketwired - Nov 10, 2015) - HITEC Power Protection, the inventor of Dynamic UPS, today announced it will showcase its new Power PRO series at 7x24 Exchange Fall Conference, November 15-18, San Antonio, Texas. Conference attendees will be introduced to the industry's most efficient UPS option for critical-power loads exceeding 1.5 MVA.
Tweet this: HITEC Power Protection http://bit.ly/1M02bZW to showcase market's most efficient UPS #power solution @7x24Exchange Fall Conf Booth #19
As the industry's leading data center conference, the 7x24 Exchange Fall Conference will be a gathering of IT, data center, disaster recovery, cybersecurity and network personnel, all concerned with uninterrupted access to critical information.
"The new Power PRO series represents the technology benefits of half a century's UPS experience," said Ranjan Misra, President of HITEC Power Protection North America. "We are proud to share our latest innovations with the 7x24 Exchange Fall Conference attendees."
The Conference theme -- Commitment to Excellence -- is a perfect fit for HITEC Power PRO series, offering data center operators in North America the market's best power infrastructure option with the highest reliability, delivering the new standard for continuous power with:
Highest available system efficiency
Unrivaled monitoring and reporting
Rapid and straightforward installation
Intuitive control and operation
Compact footprint, highest power density
A sustainable and battery-free solution
To learn how you can take advantage of HITEC Power PRO series, visit HITEC at Booth #19 or schedule an appointment for a free TCO and power analysis by contacting (800) 794-9398 or emailing: smart.simple.reliable@hitec-ups.com
About HITEC Power Protection
HITEC Power Protection is the world leader in continuous power solutions with over 1600 systems installed globally. With support centers in Texas, California, and Virginia, HITEC delivers UPS solutions that are designed to meet the business-critical power needs of its customers. HITEC guarantees customer support through an integrated network of highly trained service engineers who are backed by North American Support Centers and a 24x7x365 Global Helpdesk. For more information, please visit http://www.hitec-ups.com/.
Contact Information:
For more information, contact:
Jackie Abramian
BridgeView Marketing (for HITEC Power Protection)
603-570-7533
Jackie@bridgeviewmarketing.com