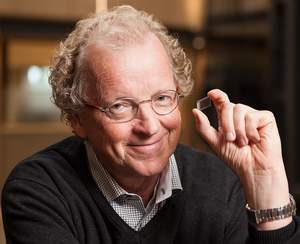 NEXT Biometrics plans to transfer shares from Oslo Axess to main listing of Oslo Stock Exchange. Above, CEO Tore Etholm-Idsoe holds the ultra-thin fingerprint sensor of NEXT, the world's lowest price provider of high-quality fingerprint sensors.
OSLO, NORWAY--(Marketwired - Nov 11, 2015) - NEXT Biometrics Group ASA (OAX: NEXT) announced that the Board of Directors of NEXT Biometrics resolved to send an application to transfer the listing of the company's shares from Oslo Axess to Oslo Stock Exchange main list.
Tore Etholm-Idsoe, CEO of NEXT, the lowest-cost provider of high-quality fingerprint sensors, said, "The application to list NEXT shares on the main Oslo Stock Exchange was submitted by NEXT Biometrics today, November 11, 2015."
ABOUT NEXT Biometrics: Enabled by its patented NEXT Active Thermal principle, NEXT Biometrics, online at www.NextBiometrics.com, offers high quality area fingerprint sensors at a fraction of the prices of comparable competitors. A wide range of NEXT product formats including Smartphones, Tablets, PC's, Doors, Time registration systems, Wearables, Payment terminals, Flashdrives, USB-tokens, Key fobs and many more are targeted.
NEXT BIOMETRICS GROUP ASA is a publicly-listed company headquartered in Oslo, Norway and with sales, support and development subsidiaries in Seattle, SiliconValley, Taipei, Prague and Shanghai. Media and Investor contacts for NEXT Biometrics: Tore Etholm-Idsøe, CEO, Tore.Idsoe@NEXTbiometrics.com and Knut Stalen, CFO, Knut.Stalen@NEXTbiometrics.com.
Contact Information:
Contact:
Brian Dobson
DobsonPR.com

203-613-2222