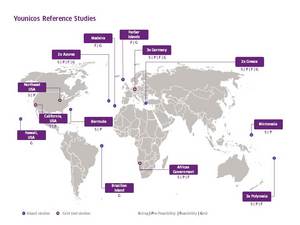 Younicos Consulting is providing a wide range of services to energy storage owners, developers and system operators, including utilities and governments on six continents.
BERLIN, GERMANY and AUSTIN, TX--(Marketwired - Dec 14, 2015) - Younicos has successfully engaged its energy storage consulting services group on a variety of U.S. and international projects since its formation one year ago. The strategic business unit is involved in consulting assignments with a multitude of clients that include utilities, large commercial and industrial firms, government agencies and grid operators.
The Younicos team is currently undertaking assignments in the United States in consulting relationships that include one of the largest U.S. power generators; a leading utility-scale solar power developer; and an energy and infrastructure consultancy. In Europe, Younicos Consulting is carrying out a wind integration assessment in Germany with a major utility; providing expertise on a multinational European demonstration and research project, as well as other projects. The team is also engaged in Latin America and on the African continent.
"In a relatively short period, Younicos Consulting has brought in a portfolio of clients from different countries and sectors of the energy industry, all with a common need: to identify, understand, and capitalize on the many advantages of battery power plants," said Robert S. Manasse, Chief Consulting Officer of the Younicos Group. "Our capabilities stand apart in that we're able to validate the assumptions and recommendations we make using live grid-connected systems in our two Technology Centers. The knowledge and experience we can offer enable organizations to exploit the technical and performance capabilities of battery storage to benefit their businesses, constituents, regions, and the planet." 
Younicos Consulting is a team of seasoned experts who provide a range of energy storage-related consulting services, from system sizing and economic analysis to in-depth feasibility studies with specific system deployment recommendations. One important area for the group is consulting engagements in the U.S. in support of energy storage Requests for Proposal (RFPs), which are increasing significantly as utilities, project developers, commercial users and communities look to add the benefits of battery power plants to their operations.
About Younicos
Younicos is a global leader for intelligent energy storage and grid solutions. Clients benefit from technical expertise, commercial know-how and in-depth experience built on nearly 100 megawatts installed in more than 20 energy storage projects worldwide. The company was founded in 2005 in Berlin, Germany, and currently employs more than 150 storage enthusiasts there and in Kyle and Austin, Texas (USA). For more information visit www.younicos.com and follow us on LinkedIn and Twitter.
Contact Information:
Spokesperson Europe and Asia
Philip Hiersemenzel
+49 174 9088188


Spokesperson Americas
Gene Hunt
+1 978-750-0333