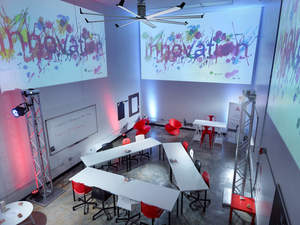 Discover endless possibilities for your business meeting at our hotel near Atlanta airport. The Innovation Lab at Atlanta Airport Marriott creates the perfect environment for productivity, creativity and collaboration.
ATLANTA, GA--(Marketwired - Dec 17, 2015) - The Atlanta Airport Marriott has reached for the stars with innovative meetings, and now they've stepped up to another level with the new Innovation Lab. Redefining the standard for collaborative business meetings, this facility allows seamless event planning with the help of certified event planners, a variety of on-site culinary experiences and an expert in-house technology team. In combination with the hotel's resort-like location, Atlanta Airport Marriott provides a perfect environment to blend corporate, comfort and creativity.
The Innovation Lab lets business travelers take their meetings to the next level. Cover the room with creative ideas, from custom projection services to writable walls and tables. You can even engage in collaborative discussion from the unique Herman Miller Spun chair. Discover the best energy for the meeting with an infinitely adaptable space and interactive games to keep team spirit flowing. At snack time, get creative with five on-site dining options, from award-winning BBQ to authentic sushi. Integration with Marriott's state-of-the-art Red Coat Direct App allows coordinators to easily plan an event, make changes and request services in real-time during meetings. Then, at the end of the day, retreat to resort accommodations, featuring luxurious bedding, soundproof guest rooms and a picturesque location.
Ditch conventional and plan an unsurpassable business event at Atlanta Airport Marriott, where innovation and convenience meet. For guests traveling from out of town, the hotel is located less than two miles from Hartsfield-Jackson Atlanta International Airport, and complimentary shuttle service to and from the airport is available.
About Atlanta Airport Marriott
Discover a distinctive choice among hotels near Hartsfield Jackson Atlanta International Airport, featuring a vibrant design and convenient location. This premier lodging destination offers five unique dining options and a modern fitness facility which is ideal for those looking to stay in shape while on the road. Whether traveling for work or escaping on a weekend getaway, guests can enjoy easy access to many local attractions and complimentary shuttle service to and from the Atlanta, GA, airport. Take advantage of dedicated staff that pride themselves on providing the amenities you expect and the comfort you deserve from our premier hotel near the Atlanta airport. Choose from an array of indoor and outdoor spaces that will prove ideal for any type of event. Every room features soundproof windows that provide guests the ultimate in peace and quiet. Choose Atlanta Airport Marriott for an unforgettable experience!
For more information on the Innovation Lab, or to submit a request for proposal, call 404-766-7900 or visit www.AtlantaAirportMarriott.com/Meetings.