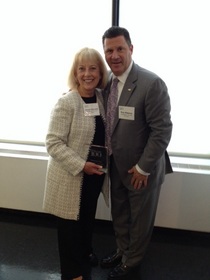 AlliedBarton's Caress Kennedy, Managing Partner; and Ron Rabena, Division President, National Security Operations, at the Responsible 100 event.
NEW YORK, NY--(Marketwired - Dec 17, 2015) - AlliedBarton Security Services, www.alliedbarton.com, the industry's premier provider of highly trained security personnel, is pleased to announce that Caress Kennedy, Managing Partner for the New York/New Jersey region, was selected as one of 'The Responsible 100' by City & State, the media company devoted solely to covering government and politics in New York.
The Responsible 100 honors New York's most outstanding corporate citizens. All of the winners were honored at a December 15th luncheon at Hunter College, which included a keynote speech by New York City Police Commissioner Bill Bratton and the release of City & State's Corporate Social Responsibility (CSR) annual report including profiles of the top honorees and research and analysis on major trends in CSR.
"The recognition of Caress Kennedy as a Responsible 100 is representative of her contribution to the New York region and personification of AlliedBarton's Dare to be Great culture," said Ron Rabena, Division President, National Security Operations, AlliedBarton. "To truly be a security services partner for our clients, we must be fully integrated with the communities where we provide services, and Caress has brought that belief to life in the New York area."
About AlliedBarton Security Services
For more than 50 years, AlliedBarton Security Services has provided superior security officer services to protect people, homes and businesses. AlliedBarton tailors security programs to meet clients' needs with committed professionals who enhance clients' brands. The most honored security services provider, AlliedBarton consistently delivers exceptional service which creates a differentiated experience for clients and the people they serve. More than 60,000 employees and 120 offices serve thousands of clients with levels of protection that anticipate needs and build enduring relationships. For more information call 1.866.825.5433 or visit AlliedBarton.com.
Facebook: https://www.facebook.com/AlliedBartonSecurityServices?ref=search&sid=1595856124.1976210655 
Twitter: http://twitter.com/alliedbarton 
LinkedIn: http://www.linkedin.com/company/alliedbarton-security-services?trk=hb_tab_compy_id_162381 
YouTube: http://www.youtube.com/AlliedBartonSecurity 
Blog: http://www.alliedbarton.com/AboutUs/Blog.aspx 
Contact Information:
Contact:
Nancy Tamosaitis
Vorticom Public Relations
Phone: 212.532.2208
Email: