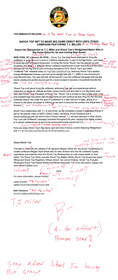 T.J. Miller Edits Shock Top Announcement - Expect the Unexpected as T.J. Miller and Shock Top's Wedgehead Match Wits in Big Game Debut for Up and Coming Beer Brand
2016 SHOCK TOP USA SUPER BOWL 50 COMMERCIAL "UNFILTERED TALK" WITH T.J. MILLER - EXTENDED VERSION
NEW YORK, NY--(Marketwired - Jan 28, 2016) - Shock Top, the beer brand dedicated to living life unfiltered, is going all in on a once in a lifetime opportunity -- a spot in the Big Game -- and ready to score big with millions of Americans. To bring this home, Shock Top has teamed up with comedian and actor T.J. Miller to deliver unfiltered experiences to beer lovers around the nation starting with the Big Game and continuing throughout 2016. Shock Top's spot titled "Unfiltered Talk" released today on YouTube.com/ShockTop, featuring Shock Top's spokes-orange Wedgehead sharing a pint and some straight talk with T.J. Miller in one of America's most flavorful bars. The spot will kick off the brand's Live Life Unfiltered campaign with the Big Game creating the perfect launch pad for a brand poised to become a household favorite this year.
"Shock Top is all about living life unfiltered, embracing real talk and experiences without pretension or labels, an attitude we think comes across loud and clear in our Big Game spot," said Jake Kirsch, Vice President of Shock Top. "Shock Top is primed to have a killer year, a big time breakthrough that starts with the Big Game but will continue all year long. It's the first time Anheuser-Busch has made this type of investment in a beer that isn't a lager, giving us a chance to introduce ourselves to millions as we work to become the number one wheat beer in America."
Shock Top's relationship with T.J. is well timed, as the comedian's career is exploding thanks in part to his popular roles on HBO's Silicon Valley, upcoming movie Deadpool and a recent hosting gig with the 2016 Critic's Choice Awards. T.J. will also take part in other Shock Top "Live Life Unfiltered" campaign moments throughout the year, ranging from digital content to in-person appearances at soon to be announced events across the U.S.
Fans can enjoy Shock Top's Big Game spot and bonus content featuring Wedgehead and T.J. at YouTube.com/ShockTop or ShockTopBeer.com.
About Shock Top
Founded in 2006 with the release of its signature Belgian White ale, the Shock Top Brewing Co. creates unfiltered Belgian-Style wheat ales for beer drinkers who live life unfiltered. Quality ingredients and creativity drive the Shock Top Brewing team to craft unique twists on beer styles. The Shock Top family includes Shock Top Belgian White, Shock Top Honeycrisp Apple Wheat and Shock Top Raspberry Wheat. Shock Top Lemon Shandy, Shock Top Pumpkin Wheat and Shock Top Pretzel Wheat are offered seasonally. For more information, please visit www.ShockTopBeer.com.
Contact Information:
For more information, please contact:

Lacey Drucker
Lacey.Drucker@anheuser-busch.com

Beth Cleveland
ShockTop@praytellstrategy.com